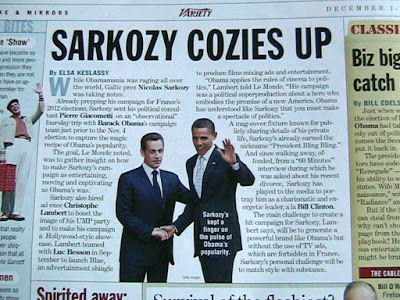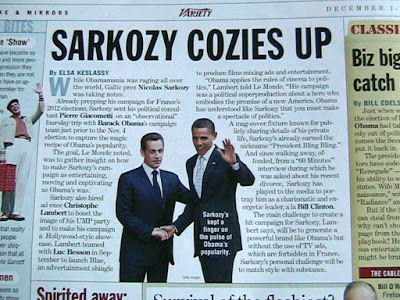 Last night while contending with a bout of mild insomnia, I came across this article in the current issue of
Variety
about French President
Nicolas Sarkozy
who is prepping his campaign for France's 2012 election by studying Mr. Obama's run here in the States. Sarkozy has hired advertising executive
Christophe Lambert
to make his campaign a Hollywood-style showcase. According to Mr. Lambert, "Obama applies the rules of cinema to politics, his campaign was a political superproduction about a hero who embodies the promise of a new America."
This got me to thinking. Is there someone I can hire to run my life like a Hollywood-style showcase? And just what would that entail? What story would I cast myself in and just what type of heroine would I be? I wonder…. I'll let you know when I come up with something and in the meantime, if anyone would like to volunteer for the job, just comment below and I'll get right back to you.
http://www.variety.com/article/VR1117996545.html?categoryid=1019&cs=1&query=sarkozy
Disclosure: This post may contain affiliate links. When you click through to make a purchase, we may earn a small commission at no additional cost to you. Thanks for supporting The Patranila Project and helping us keep the lights on!