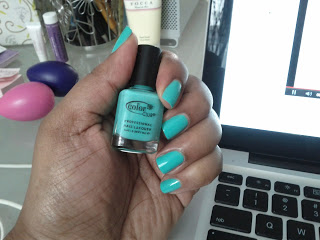 Hey Gorgeous!
Last week, I started a new
Passion for Products review series
to share my thoughts on the beauty products I receive from Birchbox. First up is
Color Club
nail polish in Age of Aquarius. I've been looking for the perfect green for spring and I think Age of Aquarius comes pretty close. It's a great color that pops without drawing too much attention to itself and I got lots of compliments on it, including from my agent and the stylist for 30 Rock! This was my first time using this brand and I'm very pleased with it. It has good coverage and staying power and is toluene- and formaldehyde-free. I get to go green while being green. Tee hee! Sorry, couldn't resist. 😉
What do you think? What nail color(s) are you loving for spring?
~ images by patranila ~