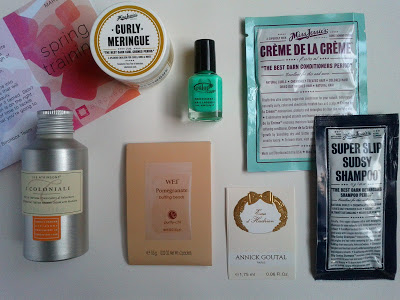 Hey Gorgeous!
Recently, I became a
Birchbox
subscriber,
follower
evangelist and I thought to myself, why have I not been sharing this bounty (and my passion for products) with you! For the uninitiated, Birchbox is a monthly subscription service that allows you to try samples of makeup, skincare, fragrance, body and hair care products for $10/month and it's all delivered to your door. For me, it's like having a curated gift bag from
Sephora
each month. If you're not familiar with Sephora's sample program/policy, get thee to a store immediately and start trying stuff out!
But back to the Birch! The samples are ample and there are so many brands I really love: Kerastase, Kiehl's, Smashbox, Zoya — the list goes on. After you find a product that you adore, you can purchase full-size versions through Birchbox often with free shipping and sometimes with free gifts-with-purchase.
This month, the theme is Spring Training and the box is full of products to get you in shape for the skin baring season to come.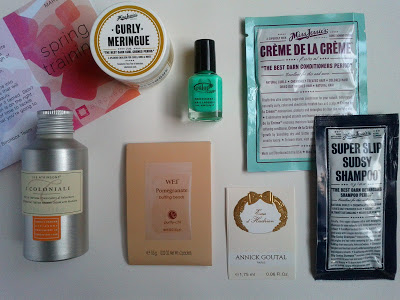 (image by patranila)
I'm excited to try Miss Jessie's Original Super Slip Sudsy Shampoo and the Creme de la Creme conditioner. I've tried Miss Jessie's styling products before with varying degrees of success so I'm anxious to see how they do in the shampoo/conditioner arena. I'm also jonesing to try the WEI Pomegranate buffing beads and the Color Club nail polish in Age of Aquarius. I think it may be exactly the spring green color I've been searching for.
In true guinea pig fashion, I'll keep you posted on the products as I try them and I hope you'll find some stars to enjoy and some stinkers to avoid.
Are you a fan of Birchbox? Let me know in the comments and also if you've found a new product that you just can't live without. My passion for products continues!
Contents of the Box: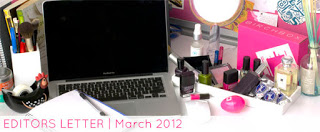 (image via Birchbox)
Clockwise from top left: Miss Jessie's Original Curly Meringue, Color Club nail polish in Age of Aquarius, Miss Jessie's Original Creme de la Creme conditioner & Super Slip Sudsy Shampoo, Annick Goutal Eau d'Hadrien, WEI Pomegranate Buffing Beads and I Coloniali Invigorating Tibetan Shower Cream with Rhubarb.
Shop This Post and More!