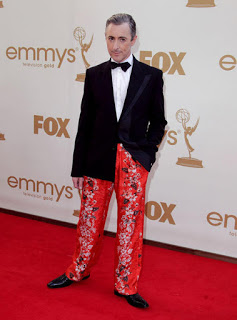 Award season is in full swing and as you may know, I don't watch awards shows but I do watch the Red Carpet so here's who caught my eye at the 63rd Primetime Emmy Awards.
Alan Cumming
On to the contenders in the best dressed actress category. In no particular order are:
Aubrey Plaza
Christine Baranski
Claire Danes
Connie Britton
Evan Rachel Wood
Heidi Klum
Jane Krakowski
Kristen Wiig
Lena Headey
Nina Dobrev
Rashida Jones
Julia Stiles
Sofia Vergara
My favorites are Nina Dobrev, Christine Baranski, Heidi Klum and the unpopular Lena Headey. I'm going out on a limb and calling Lena Headey my absolute favorite. I love the mysterious, edginess of this body conscious look that's sexy without showing a bit of skin below the neck. Fantastic!
Now, for the Terrible Two! Gwyneth Paltrow and, oh dear God, Paz de la Huerta. Ladies what are we thinking? Not good, not good!
Gwyneth Paltrow
Paz de la Huerta
That's it for me for the Emmy's. Did I miss anyone? Do tell. Who's your favorite?
xoP