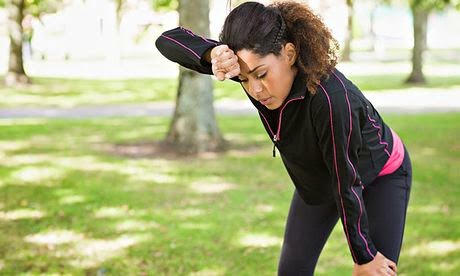 Hey Gorgeous! I'm still in training to run
The McCarren 5K
next month and I would love to report that I've been running on schedule and that everything is dandy but, alas, this is not the case.
I'm currently in Week 3 of my training with the
C25K app
(Couch to 5K) but I had to take the entire second week off because I caught some bug that came complete with body ache, head and chest congestion. Now, one can run with a simple head cold but when you add a strong cough and chest congestion, one needs to have a seat. So sit I did and when I got back on the track this Sunday, it was almost like starting over again. Ugh! Add this to the fact that I was already time challenged because my race date and the length of the training program aren't exactly lined up and you have a recipe for a frowny-faced Patranila. Nevertheless, I'm back at it and determined to be ready for race day!
On the flip side, another thing that happened this week was getting confirmation that, contrary to my own belief, what one does in life rarely goes unnoticed. No fewer than five friends have been inspired to start running because I'm in training and two of them will be joining me in the McCarren race next month!! Big fat YAY! As a blogger, and as a regular human being, I often wonder if anyone is paying any attention at all. I go about my days, doing the things that I do, with no certainty that I'm impacting anyone's life, for better or for worse and I can't help but wonder what I'm doing it for. Learning that I've inspired some folks is a great feeling and gives me more motivation to keep going and to keep sharing!
If you're thinking you want to join in or follow along, look for me on Twitter and Instagram (@patranila) where I'm using the hashtag #5KPJ. Happy trails!


RELATED POSTS