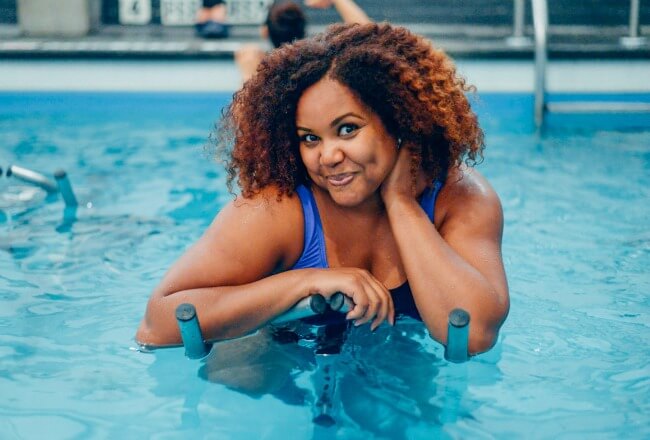 Body positivity. We hear the term a lot lately and I wonder, what comes up for you when you hear it. I automatically imagine plus-sized women marching through the clothing aisle, gleefully flinging skimpy outfits to the side as they sing an 'embrace your curves' medley. OK, maybe that's the musical theater version of it (which is odd because I don't like musicals) but whatever the image in my head is, it's definitely comprised of women who are all plus-sized. Hmm. Why would that be? I'll tell you why. Evil indoctrination. But thanks to my new friend and fellow blogger CeCe of PlusSizePrincess, I've had an awakening. CeCe brought 10 amazing women together for a Body Positive Workout at AquaStudio NY and granted us all beautiful bathing suits from swimsuitsforall.
When I arrived at AquaStudio for our Aquacycling class, I was surprised that our group comprised women who were plus-size, straight-size and some in-betweenies like myself. I was amazed at my own lack of awareness. Body positivity isn't just for some of us, it should be readily recognized as something that everyone with a body should experience. Duh! This whole notion of separating women based on body type/shape/size is ridiculous and archaic. Do we really need more division? No, no, no.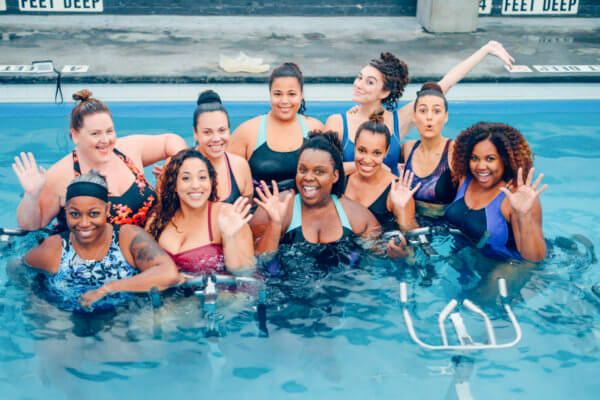 So here's how the day went down.
[Tweet "Body positivity is for every body! @AquaStudioNY and @swimsuitsforall – a match made in #fitness heaven!"]
The AquaCycle Workout
First of all, I do not like spinning but bolting a bike to the bottom of a pool for a water workout is intriguing. Water makes everything better! Ours was a BLEND class which combined several styles for a challenging 45-minute session. We alternated seated and standing positions on the bike, hung off the back of the bike, added arm movements, and tread water all while continuously pedaling. Can you say focus and concentration? Yeah.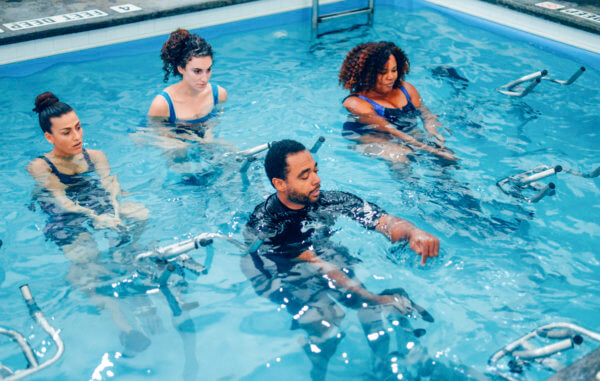 Our instructor, Ed, was quite helpful and when he realized I had a bike that was determined to float away, he came over and stood on it for me. Thanks Ed!
Admittedly, I was not prepared for the intensity of the class (or to get my hair wet) but in addition to providing a great workout, the class had a lovely and unexpected meditative quality. The usual stress present in a regular cycling workout was absent at AquaStudio because being in the water bestows an automatic zen. It's a winner!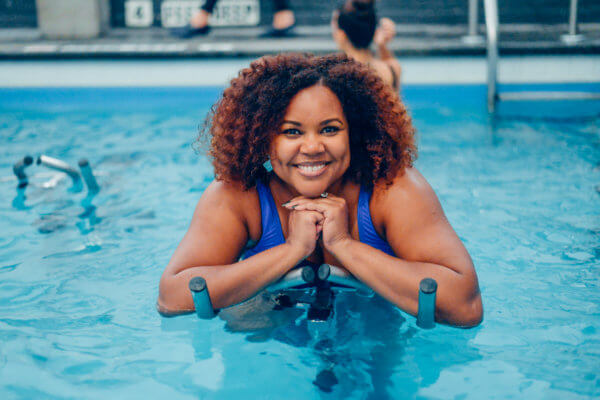 The Outfit – swimsuitsforall – Body Positivity in Action
Each of us got to choose a swimsuit from swimsuitsforall, a leader in swimsuits for curvy women. Their mission is to make the world a better place to swim by providing high quality, flattering swimsuits for women sizes 8 to 34. I chose the Chlorine Resistant Xtra Life Zip Swimsuit in Blue that fit perfectly. I picked the zipper so I could modify my cleavage exposure to suit the occasion. Yes, sometimes the girls need to make more of an appearance.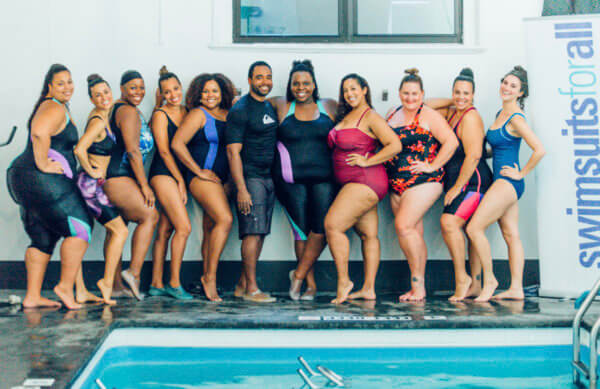 The range of suits available at swimsuitsforall is incredible. I particularly like the two-piece suits with capri or full-length bottoms that can go from yoga to the pool and back. The collection is called Gym to Swim and it's genius.
If you're in New York, I highly recommend giving AquaCycling a shot. They have classes for all skill and fitness levels and you can purchase single classes or sign up for an unlimited monthly membership. Check out the site for all the details. And if you can't get to New York to try the classes you can certainly get a great swimsuit at swimsuitsforall and do your own body positive water workout!
---
RECOMMENDED FOR YOU
---