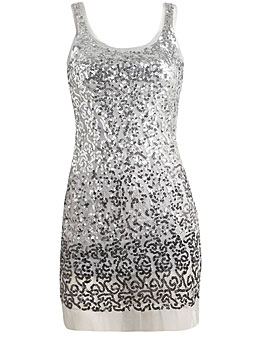 With holiday party season in full swing, even the most extensive wardrobe can buckle under the pressure to be dazzling at every outing. My solution? The party dress. Specifically party dresses under $100. Dresses are the perfect party solution as they are the ultimate in one-piece dressing. Short on time or inspiration? All you need is a snazzy pair of shoes and a few well-chosen baubles and your look is complete. Choosing on-trend styles that are also inexpensive, allows you to stock up without breaking your budget.
From sweet to sexy to full-on sparkly, I've pulled a collection of gorgeous party dresses under $100 that give you guaranteed wow factor.
---
Party Dresses Under $100
A few more options for party dresses under $100, include this fit and flare mini, this high-voltage sleeveless cocktail number, and this ($13!) color-block body con dress for the thigh-conscious.
Of course, Nordstrom always has a lovely selection of cocktail and party dresses to choose from and this Roxanne romper that I'm seriously considering for myself. With free shipping and returns, Nordstrom is a no-brainer.
Thanks for stopping by and remember to share this post with a friend! Stay saucy my lovely!
[Tweet "Rock your holiday party in a gorgeous dress for under $100."]
MORE MUST-READS
Disclosure: This post may contain affiliate links. When you click through to make a purchase, we may earn a small commission at no additional cost to you. Thanks for supporting The Patranila Project and helping us keep the lights on!