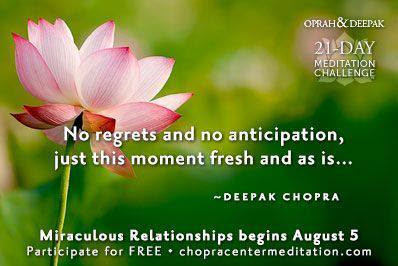 Now let me say right up front, I clearly love a challenge but I often suck at completing them. To be fair, I don't really set out to follow the challenge to the letter but rather use the challenge to help me do more of something that I want to do (blogging) or think I should do (abs). So in a way, my challenge taking is successful because I definitely increase my activity during that time but in a strict interpretation of the rules, one could say that I'm an abject failure. It's ok, I don't mind failing. Much.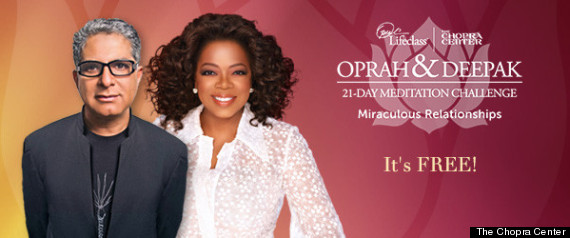 I'm really excited to do this meditation challenge because for many months, several signs and a couple of swamis have been leading me to get my spiritual house in order. Admittedly, I sometimes need a bag of bricks to fall on my toe before I move in a direction that I had previously only been gently nudged toward. I'm stubborn ok, leave me alone. And earlier this year, Deepak did another meditation challenge but I didn't learn about that one until a week or so after it started and I could never catch up so I had to bail. This time, I'm ON it!
The focus for this meditation is Miraculous Relationships and I have some relationships that could use a few miracles let me tell ya, not the least of which is my relationship with myself. So I'm really excited to get started and see how I feel about my relationship with myself and some other people at the end. The challenge starts today and maybe you could join me! If you do, please leave a comment or
tweet me
and let me know. Here's to awakening, enlightening and all that jazz!
Thanks for reading!