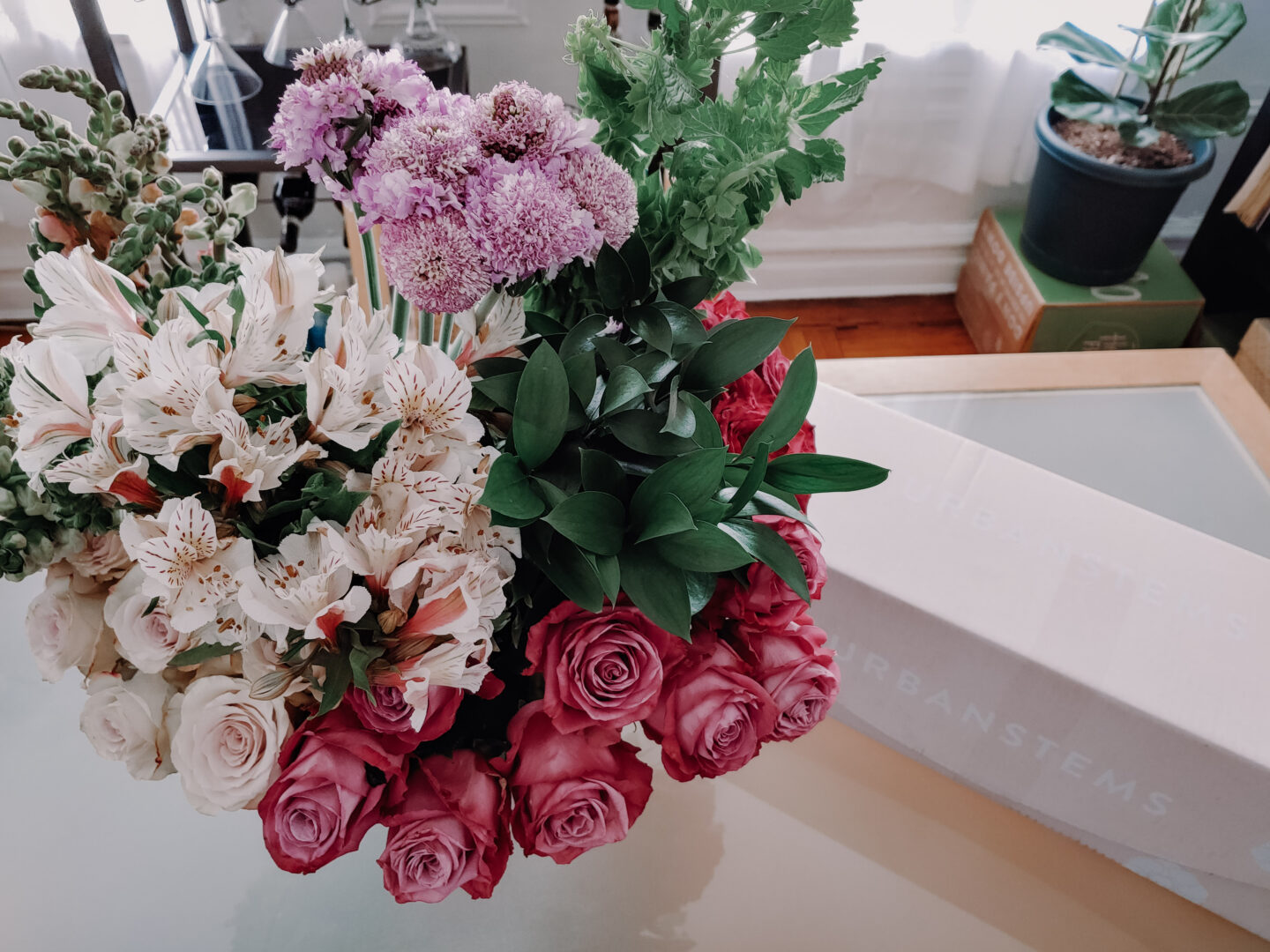 Having fresh flowers at home is one of the best ways to add a little beauty to your everyday life. I always enjoy creating my own flower arrangements but with stay home orders still in effect, getting to my local flower shops is a little difficult. Luckily, I've found a wonderful flower delivery service, UrbanStems, that delivers gorgeous farm fresh flowers for do-it-yourself flower arrangers like myself!
They deliver a huge box of fresh blooms with filler flowers and greenery so you can use your imagination to create your own bouquet or bouquets depending on the size of the kit you order.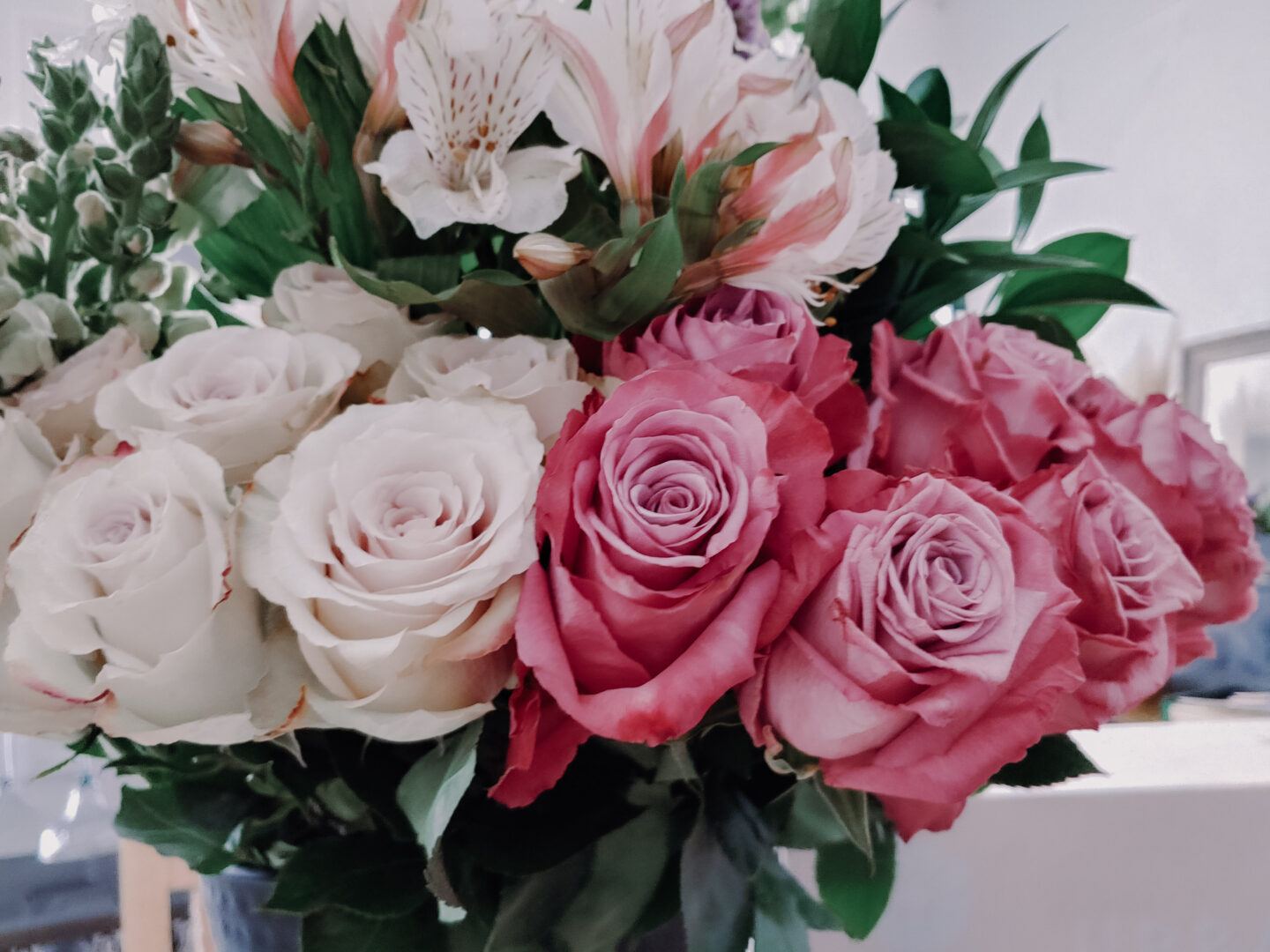 This is the second DIY Ensemble Box I've purchased and it comes with 70 stems. I shared a video of how I arranged the smaller DIY Companion Box over on Instagram, but this larger bunch yielded two full arrangements.
Here are all the stems I received in the Ensemble Box:
24 roses
8 lavender scoop scabiosa
21 snapdragons (pink and white)
7 molucella
5 white alstroemeria
7 ruscus
Arrange A Stunning Centerpiece Like a Pro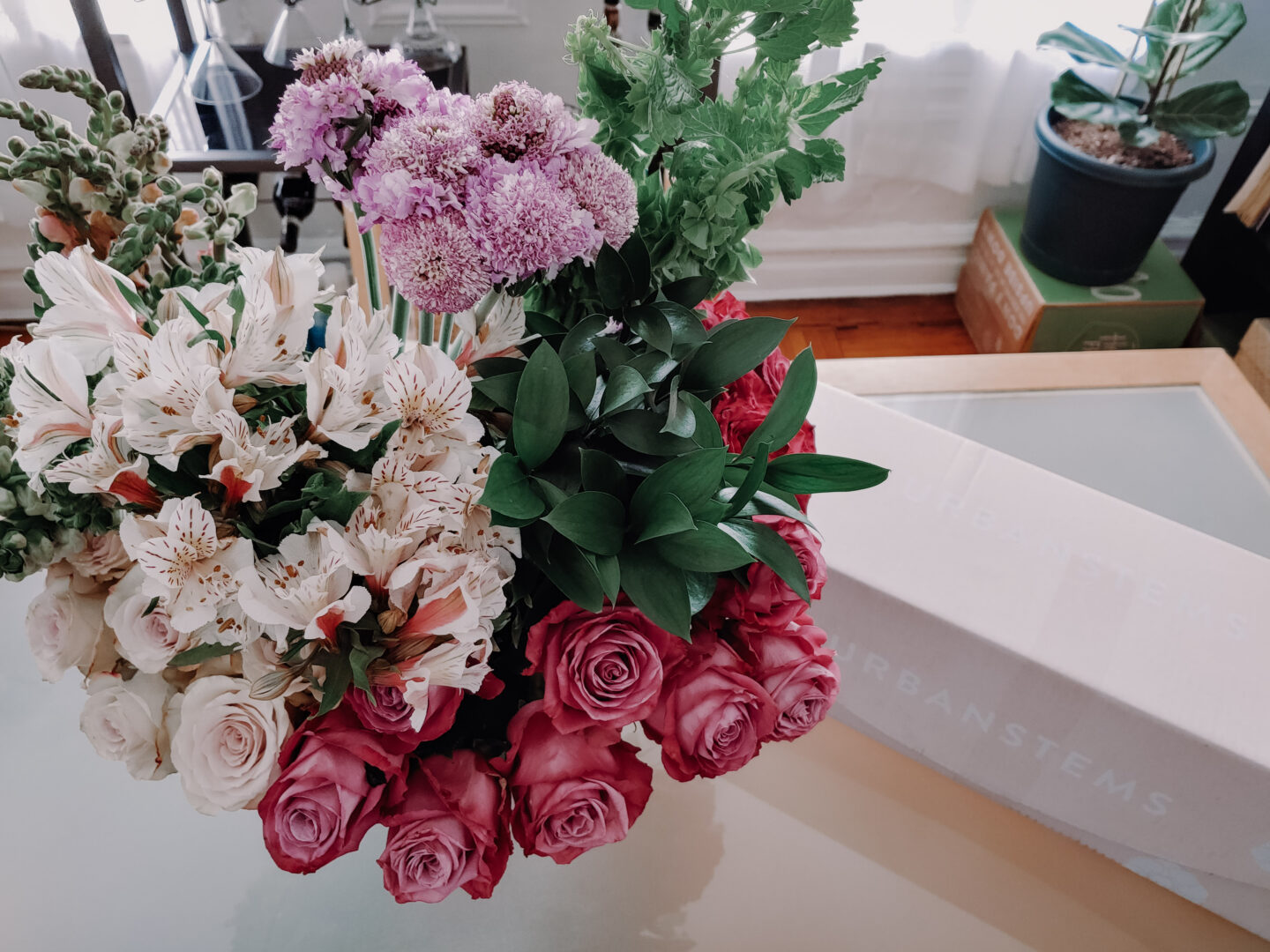 Because I knew I could make two bouquets from this delivery, I decided to make a full, more classic arrangement for my dining room table and a wilder, more free-flowing arrangement for another part of the house.
How to Build Your Own Bouquet That Lasts
After you've decided what mood you're going for with each DIY bouquet, it's time to prepare the flowers so they'll last as long as possible.
I begin by trimming away any petals that are not fresh and firm. If you have a good batch of flowers, you won't have to trim much. How do you know which petals to trim? Remove the ones that are bruised, turning brown, or that pull away easily. Try to make a clean break from the very root of the petal so as not to create tears.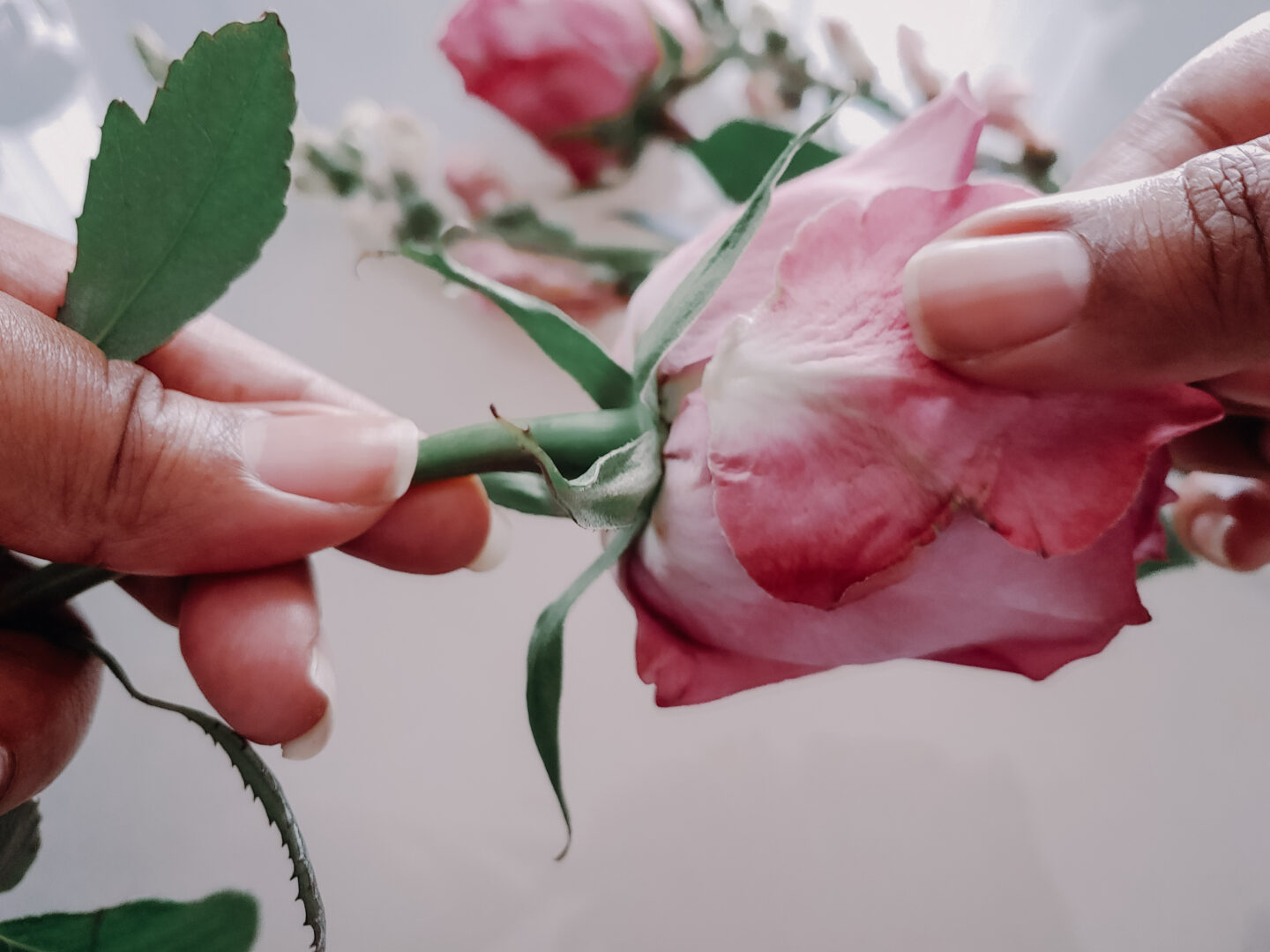 Then, using sharp shears, trim each stem at a 45-degree angle. For roses and other dense-stemmed flowers, you may need to cut above the first available knuckle to make sure the flower continues to draw water once its in the vase.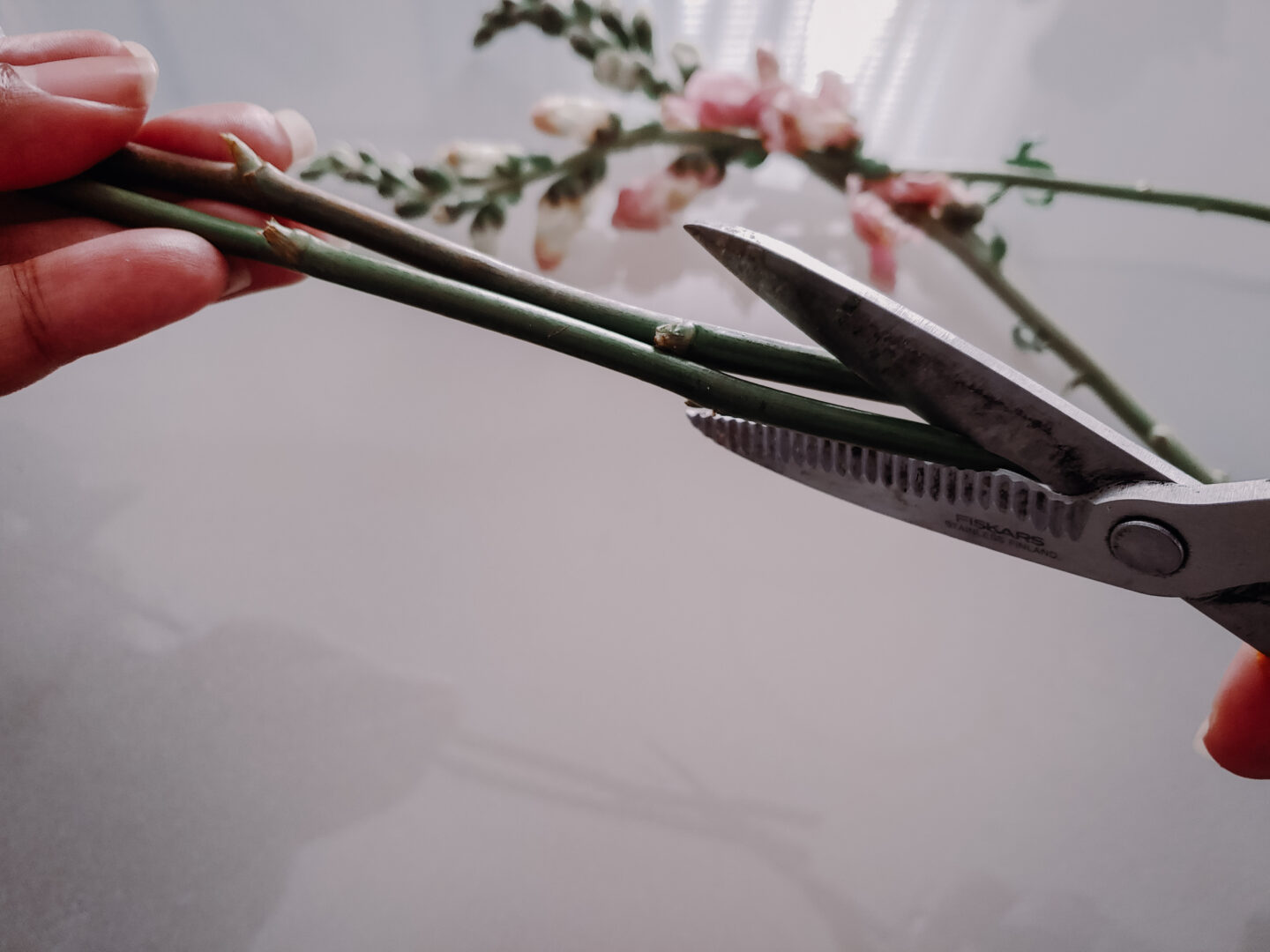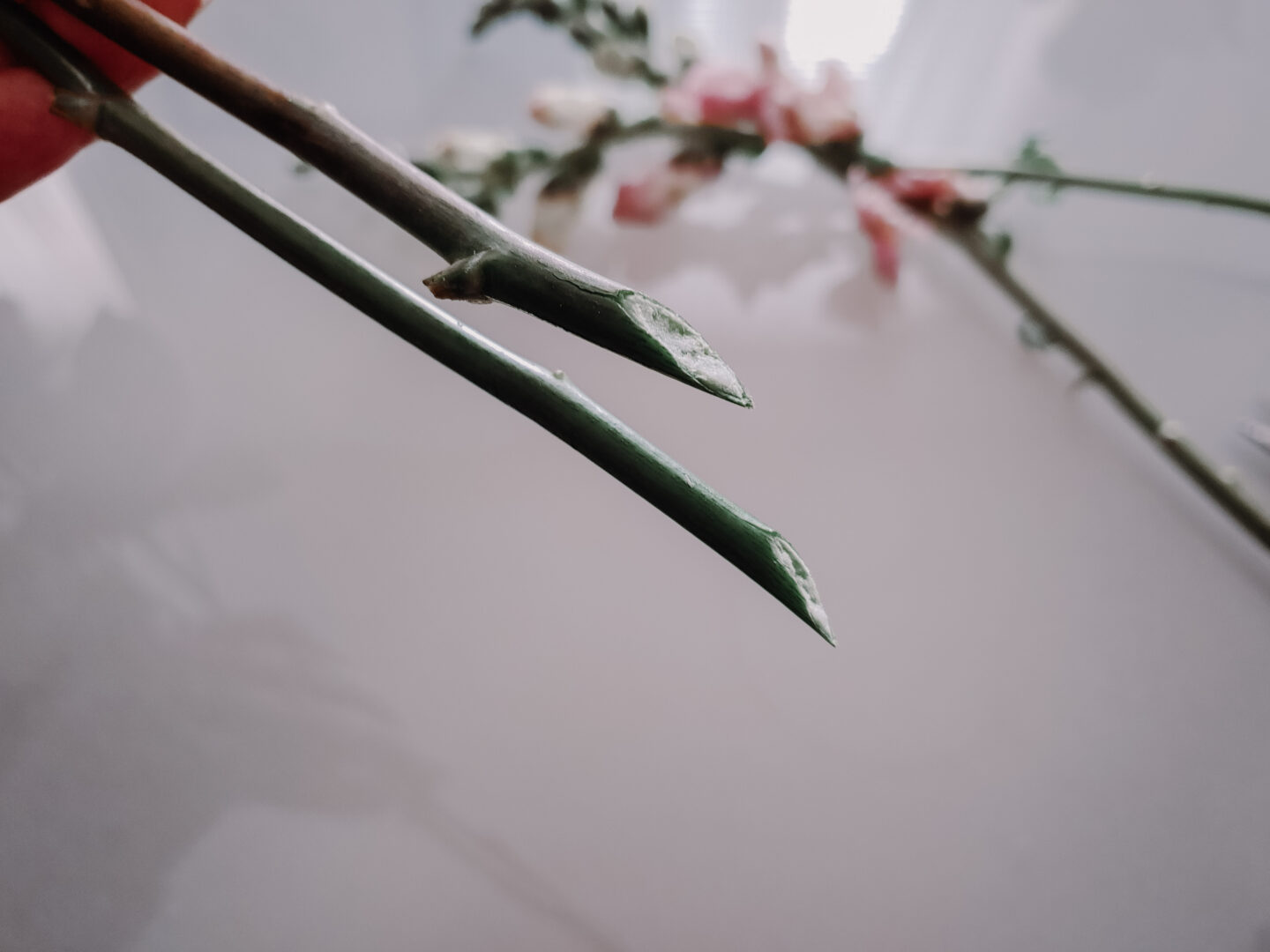 I put the plucked petals in a dish to create an additional flower feature that I can place anywhere around the house. Waste not, my lovely!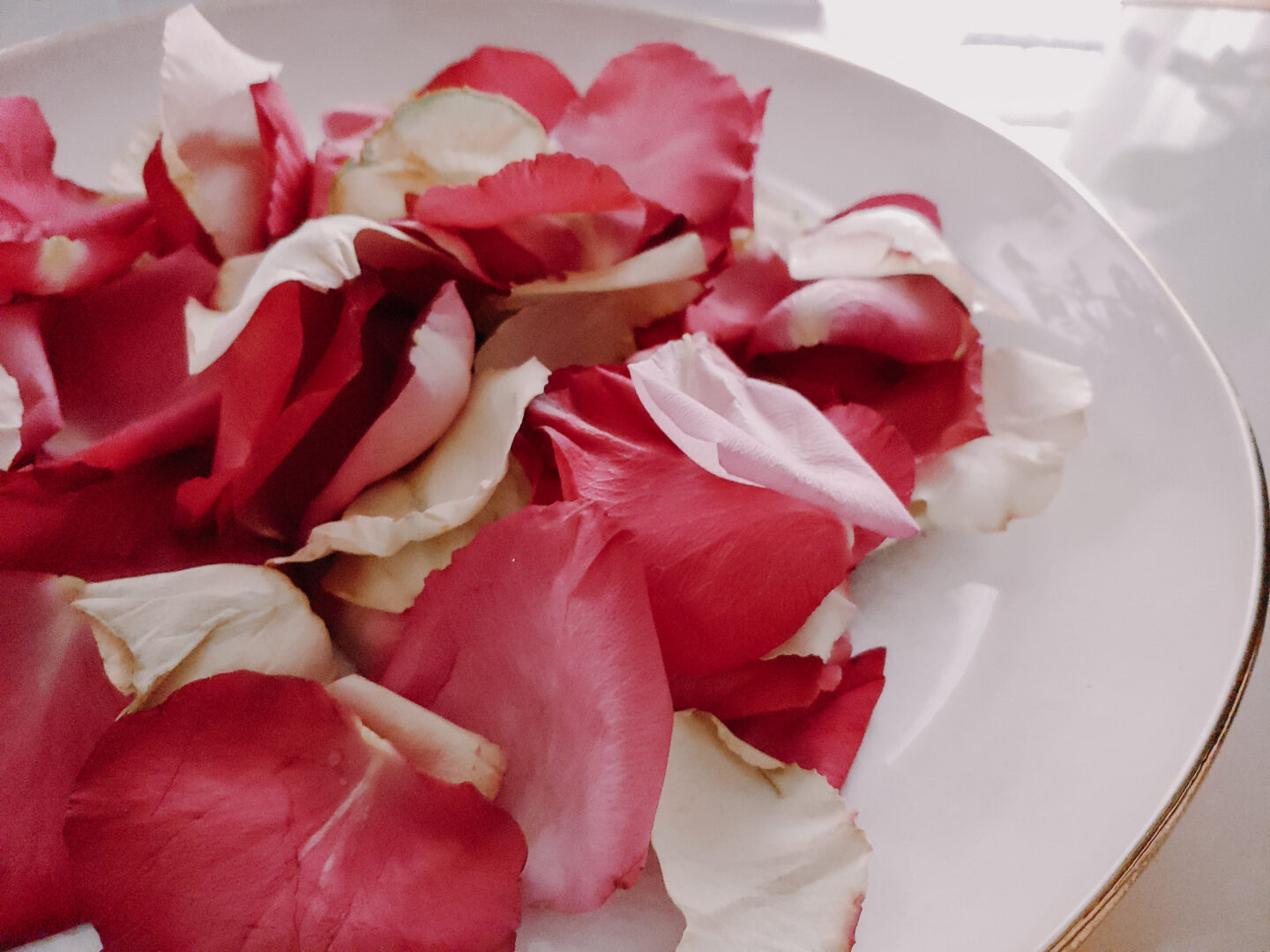 Before arranging the stems in the vase you've chosen, be sure to remove any leaves that may fall below the water line once in the vessel. This really helps keep your bouquet fresher longer.
Build Your Own Bouquet: Water Temperature
Also consider the temperature of the water in the vase. Some flowers thrive in warmer water while others need it cooler. Roses love room temp to warm water, while peonies prefer cold water. Ice cubes come in handy for those!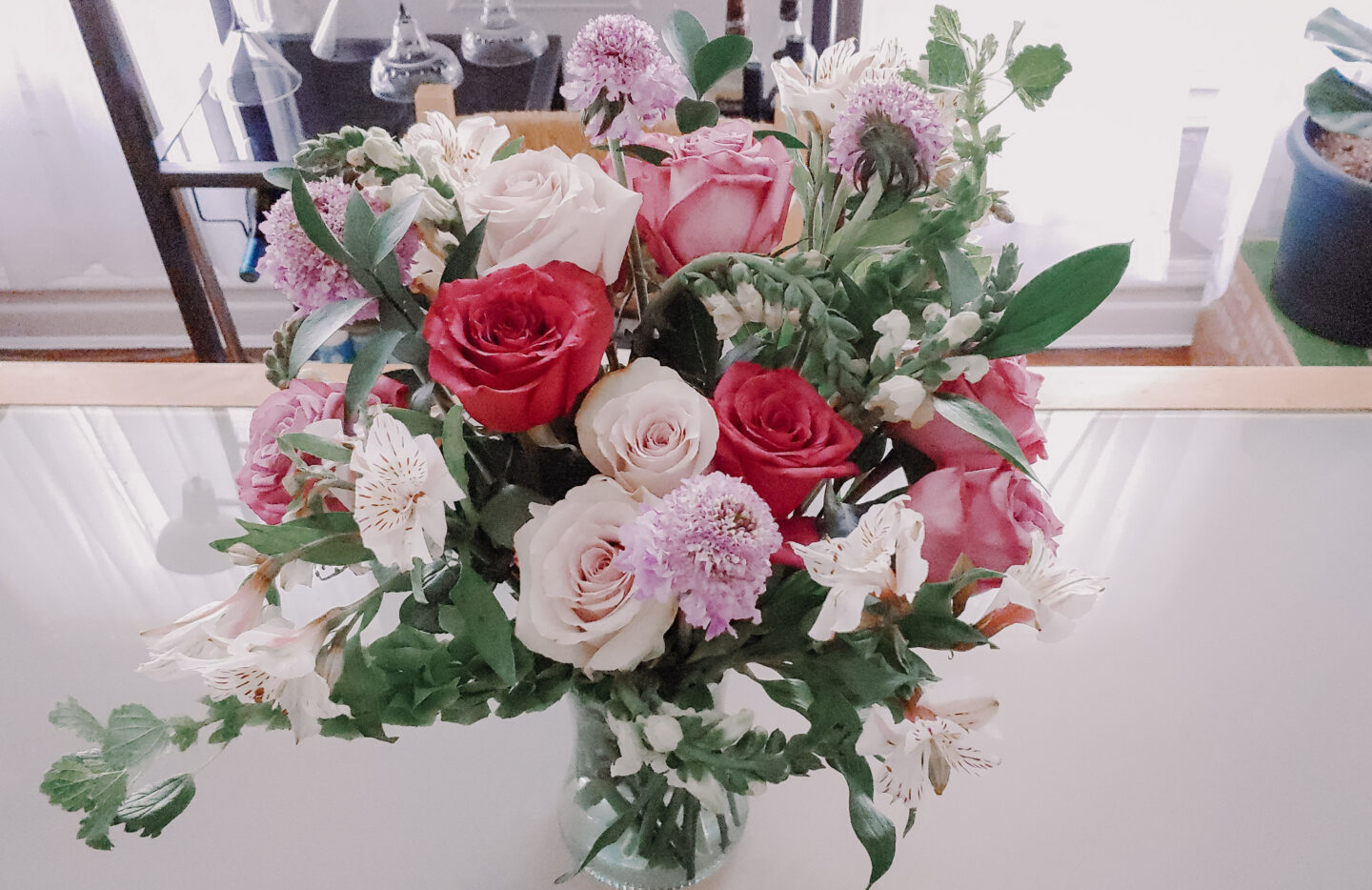 Create a balanced bouquet by placing flowers at varying heights (trimming stems accordingly) and making sure to spread the blooms evenly across the whole display. Start with your main blooms and add filler flowers and greenery to your liking, mixing colors and flower variety as you go. Try to avoid large clusters of the same type and color of flower.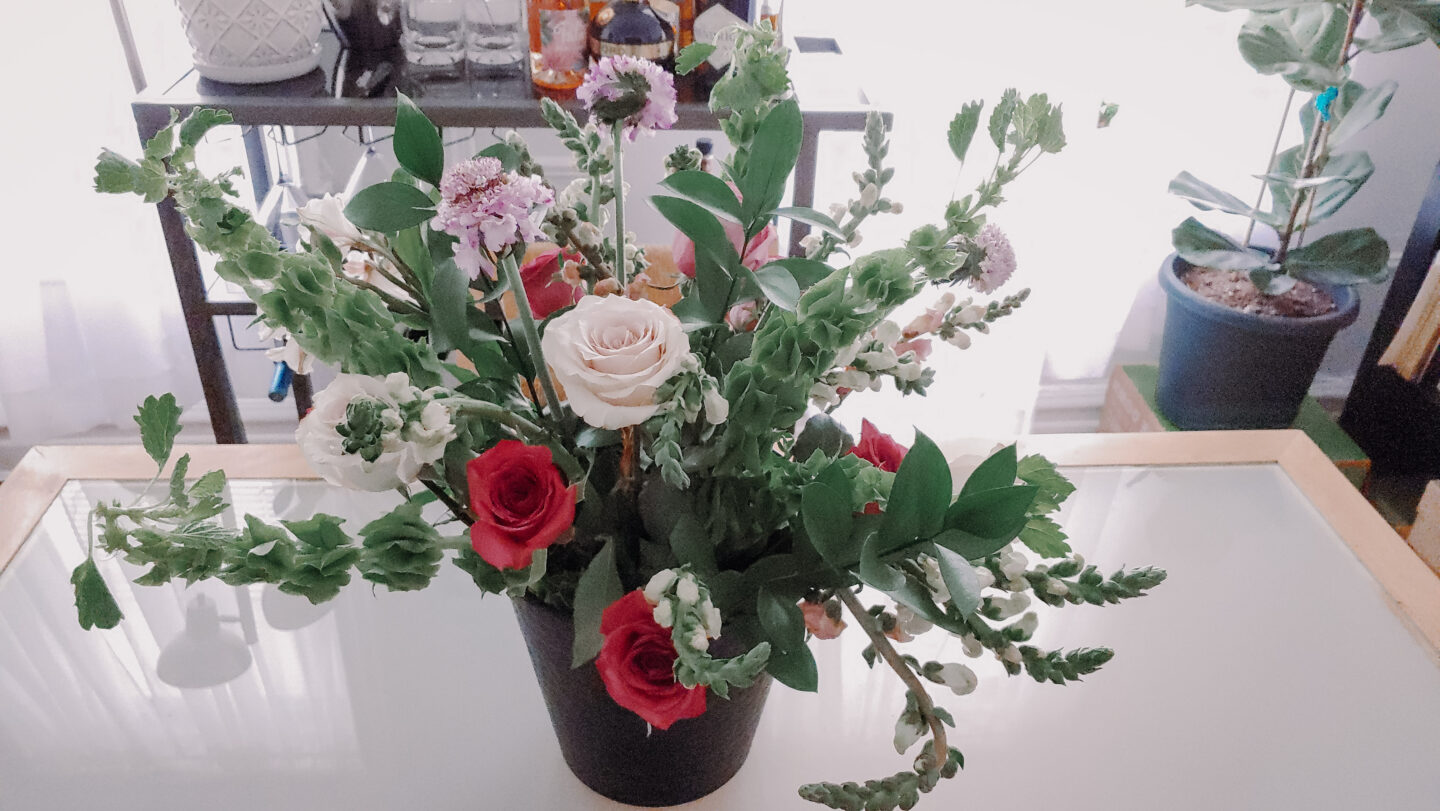 UrbanStems delivers gorgeous, quality flowers every time and they're the perfect partner if you want to build your own bouquet regularly. I'm totally addicted! And if by chance, you want to have professionally arranged flowers delivered to your home, you can do that too! They even offer a subscription service starting at $50 per delivery. You can choose how often you want a fresh flower delivery and cancel at any time.
Cheers to elevating your everyday with fresh flowers at home!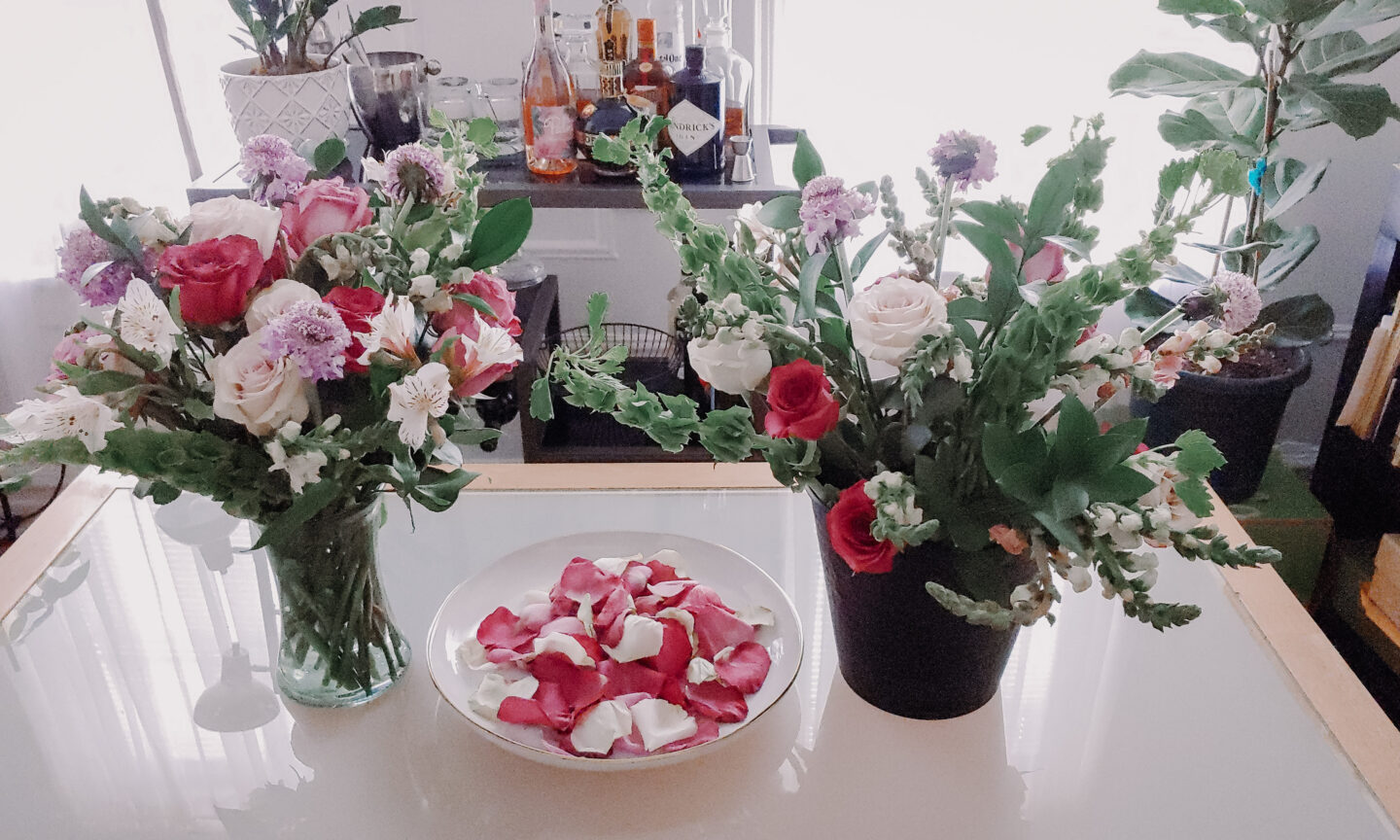 ---
RECOMMENDED FOR YOU
Becoming a Plant Mama During Quarantine and Loving It