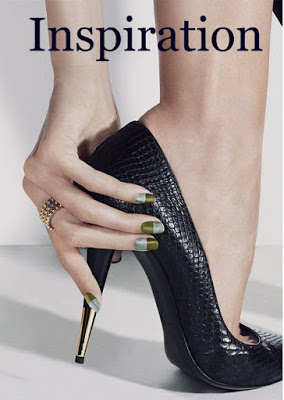 The September issue of InStyle magazine has a lovely beauty feature called Nailing The Season and I fell in love with this colorblock nail look. Nail polish designs have been having a moment for quite some time but I tend to lean more toward the simpler looks. I'm really drawn to the lack of uniformity and the simplicity of the colorblock and I took the idea a little further by color blocking some nails while leaving others solid.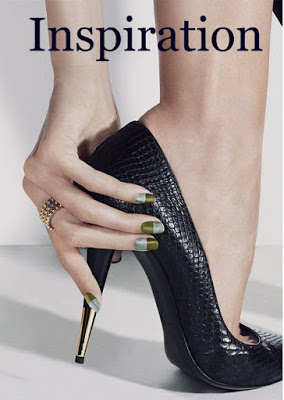 via Instyle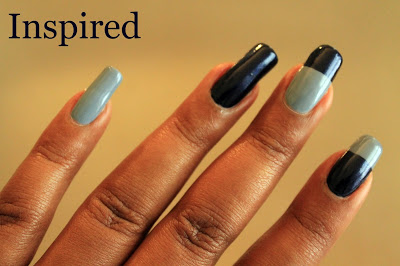 The inspiration manicure uses shades of green, Prabal Gurung for Sally Hansen in Loden Green and Zoya Pixie Dust in Vespa, but since I'm having a late-summer love affair with blue, I chose Julep's Lacey and Julianne for my colorblock nail design. Lacey is a gorgeous, richly pigmented, midnight blue with a slight shimmer and it applies like a dream. Julianne is rich, creamy and soft. Love them both together and separately.
In addition to my desire to mix it up when it comes to polish, there are a couple of other reasons I didn't do the color blocking on all ten fingers. First, and most importantly, I'm not the ambidextrous type so there's no way I would be able to get anything close to a clean line on my right hand.
As you can see in the image below, it's all a little shaky. Second, my nails are not all the same length at the moment. My thumbs, which you can't see, are only slightly longer than my nail beds because I have to be able to use my phone and long nails definitely get in the way of that. I haven't let my nails grow this long in years and even though they are really feminine and dainty, they are getting a bit cumbersome. I'll probably do a chop after Labor Day and start fresh for the fall.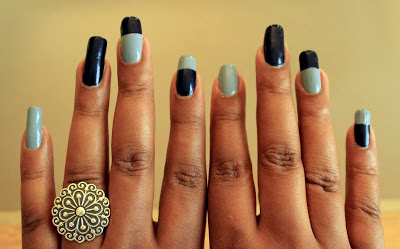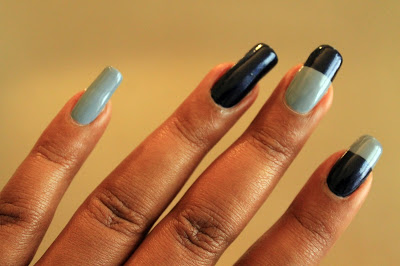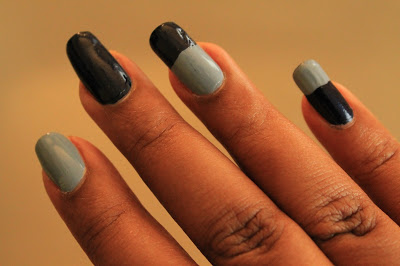 Here are the DIY instructions to achieve the complete colorblock nail look:
1. Apply a thin layer of clear base coat to each nail.
2. Starting with your pinkie, paint every other nail with two coats of the lighter shade.
3. Layer bare nails with two coats of the darker shade.
4. Paint the upper half of each nail with two coats of the other shade, swiping the brush horizontally across the center of the nail before filling in the top half.
5. Apply top coat.
The Modification, AKA What I Did:
1. I alternated the placement of the colors so that on my left hand I started at the pinkie with the lighter shade and on the right hand, I started at the pinkie with the darker shade. The end result is having corresponding fingers with different colors.
2. I chose the index and middle finger on my left hand for the color blocking, leaving the remaining three fingers solid.
3. I chose the pinkie and ring finger on my right hand for color blocking, leaving the remaining three fingers solid.
Application Tip: Make sure you allow enough drying time before attempting the color blocking and before applying the top coat. Be sure to work in thin layers because four layers of polish with a base and top coat can get a little thick and won't last as long.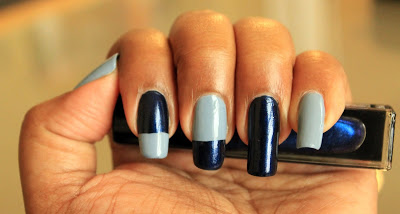 And, if you want to your very own Julep colors, Become a Maven
and get many, many gorgeous shades.
Happy polishing!
---
RECOMMENDED FOR YOU
Shop For Inspiration Colors