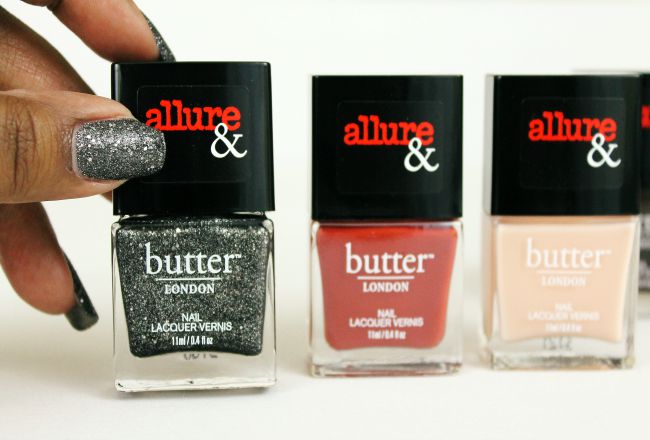 Allure and butter LONDON have teamed up to create Arm Candy, a stunning new collection of nail polishes for fall. Designed to highlight and accessorize your individual style, bLxAllure Arm Candy features six individual lacquers and a 4-piece fashion lacquer collection. I received two sets of the six lacquers from the folks at butter LONDON (one for me and one for a lucky reader)* and I absolutely love it!
With names like Nude Stilettos, It's Vintage and Disco Nap, the collection offers a lovely range of colors and finishes from sheer creme to textured glitter. My breakout favorite is Disco Nap, a spectacular charcoal glitter followed closely by I'm On The List, a rose-gold metallic that's both subtle and sassy.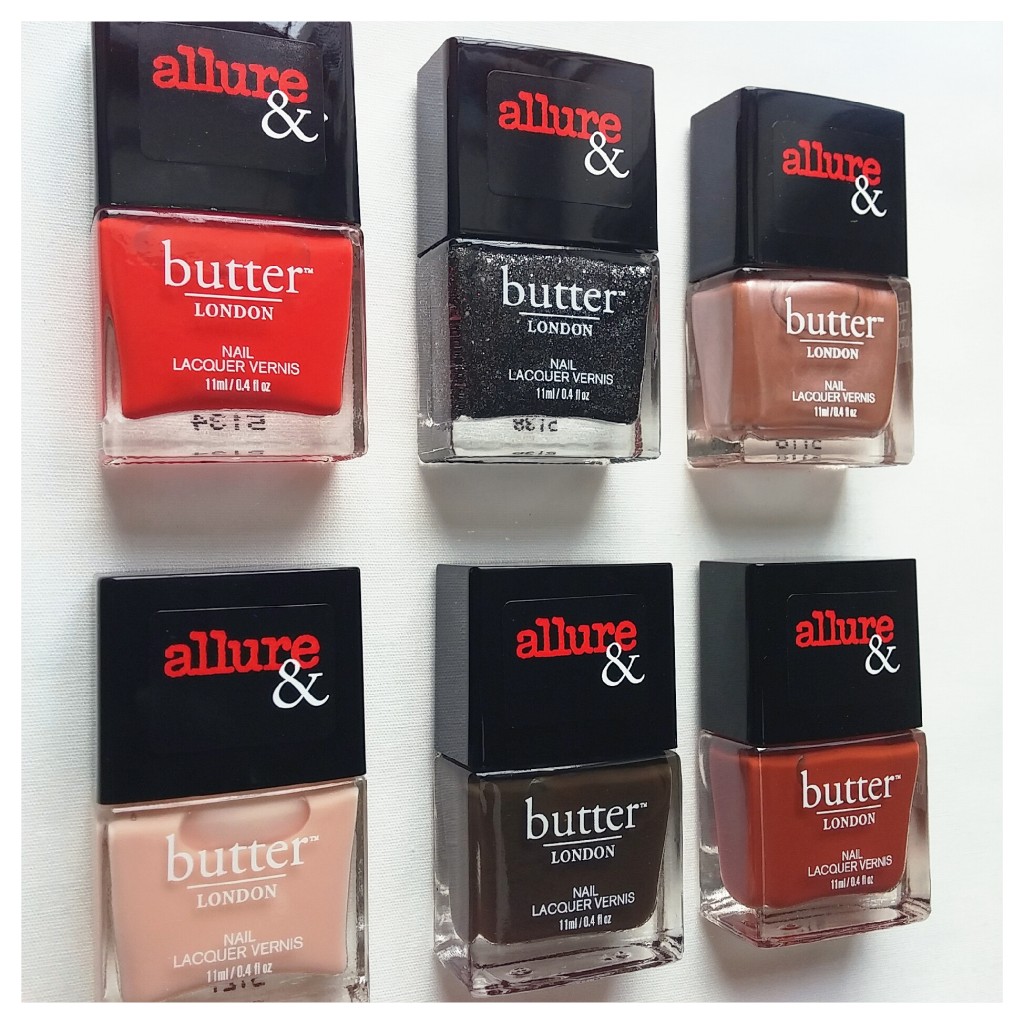 butter london bLxAllure Arm Candy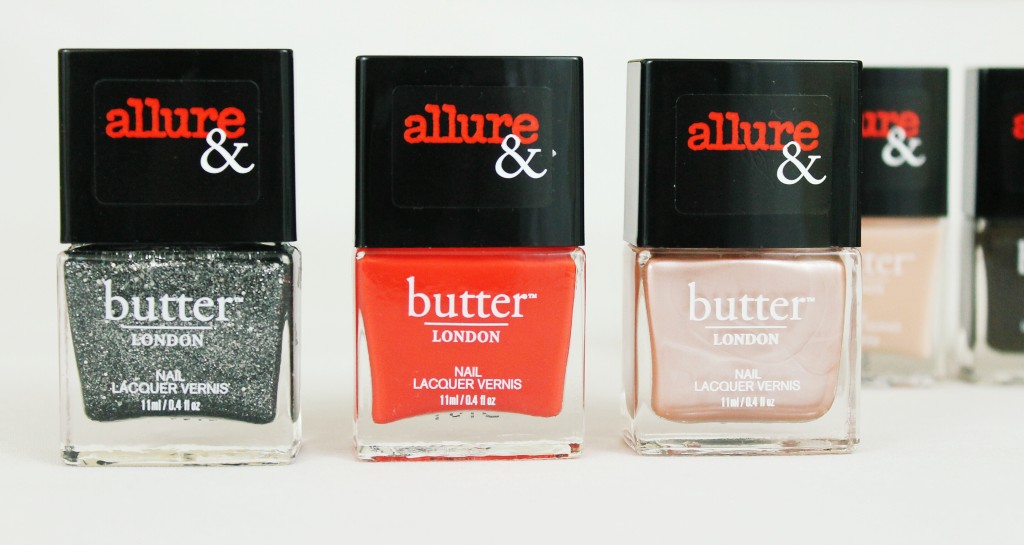 From left we have Disco Nap, a charcoal glitter; Statement Piece, an opaque orange-red creme; I'm On The List, a rose-gold metallic.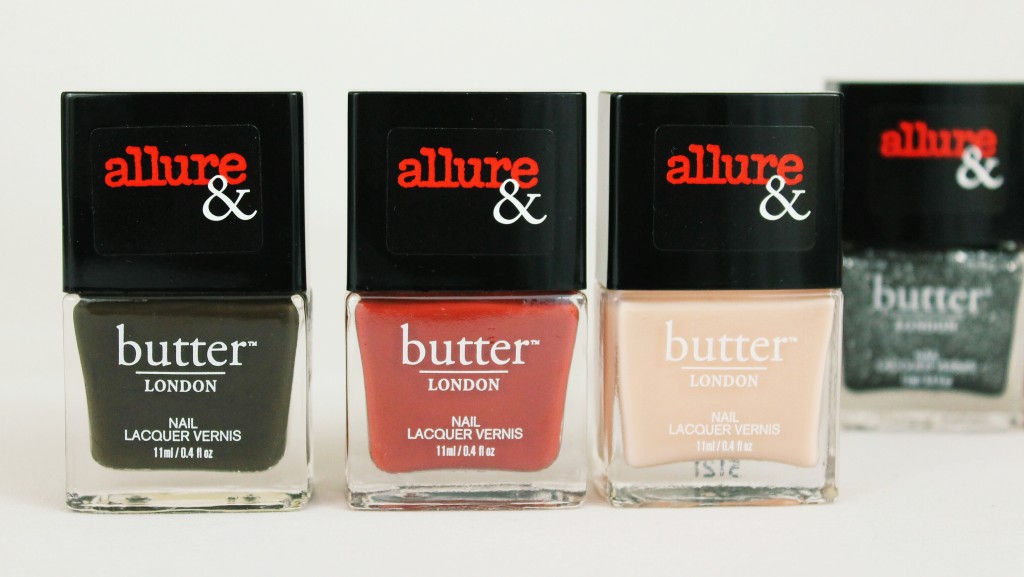 Next up are Lust or Must, a charcoal-brown creme; It's Vintage, an opaque rust creme; and Nude Stilettos, a sheer pink-nude creme.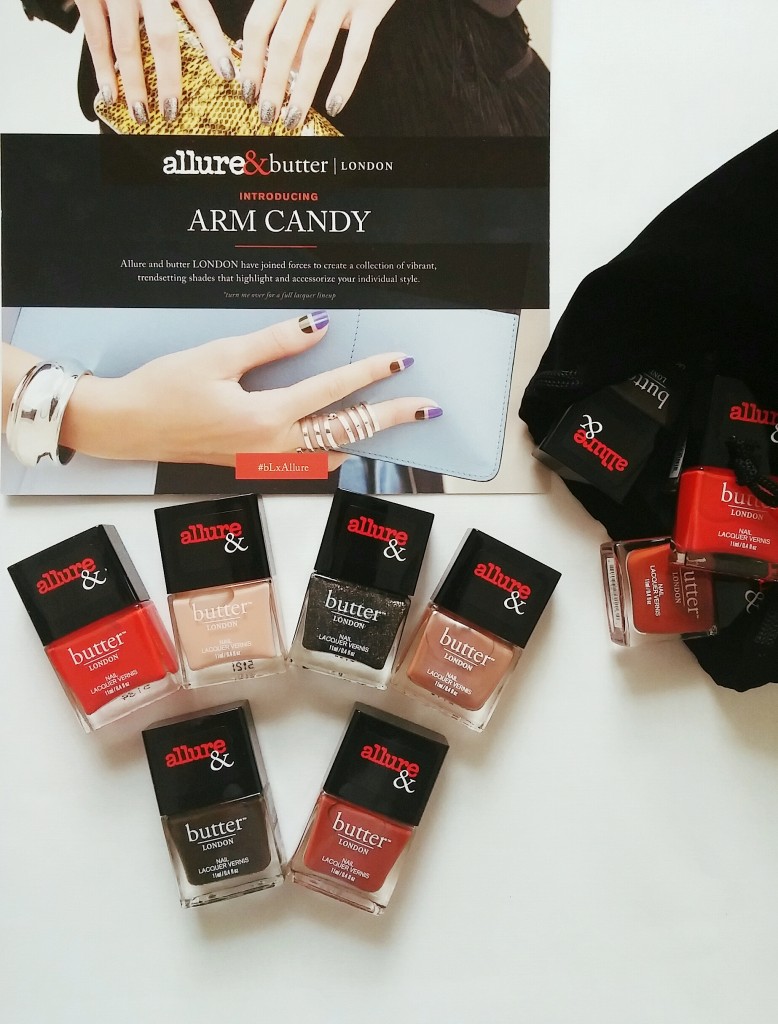 Aren't they gorgeous! Before these polishes arrived, I'd been planning to hold onto to my summer shades until the bitter end but now I can't stop wearing Disco Nap. It's so fancy!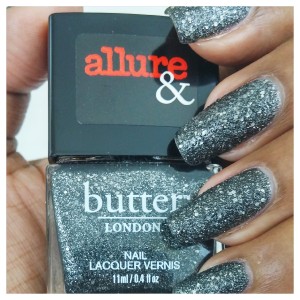 [Tweet "Get the perfect fall nail colors with #bLxAllure Arm Candy by @butterlondon."]
In addition to these six colors which can be purchased individually for $15 each, there's a 4-piece Fashion Lacquer Collection that consists of Violet's Revenge, a blue-purple creme; The Sweet Spot, a dusty-pink creme; So Major!, a loden-green shimmer and Front Row, a wine creme. The color exclusive, fashion-size collection is available at butter LONDON or Sephora for $30. Click on over to see the swatches.
What do we think? Do we love them?
Thanks for reading and stay saucy!
*P.S. Be sure to follow me on Instagram AND sign up for my newsletter for advance notice on upcoming giveaways and specials!
---
Shop butter london bLxAllure and more!
---
RELATED POSTS