Have you taken a look at Mary Kay lately? If you haven't, you're missing out on quite a few beauty goodies! I received a selection of Mary Kay products for spring in the #MKGlam VoxBox courtesy of Influenster and so far, I'm really impressed with their offerings. Mary Kay's colors are youthful and on trend with lots of options for creating a variety of looks, from everyday natural to ultra glam.
WHAT'S IN THE #MKGLAM VOXBOX:
Lash Love Mascara in I Heart Black ~ $15
Cream Eye Color in Apricot Twist ~ $14
Mineral Cheek Color in Shy Blush ~ $12
Translucent Loose Powder ~ $16
Gel Eyeliner in Jet Black with Expandable Brush Applicator ~ $18
NouriShine Plus Lip Gloss in Mango Tango ~ $14
Cream Eye Color/Concealer Brush ~ $10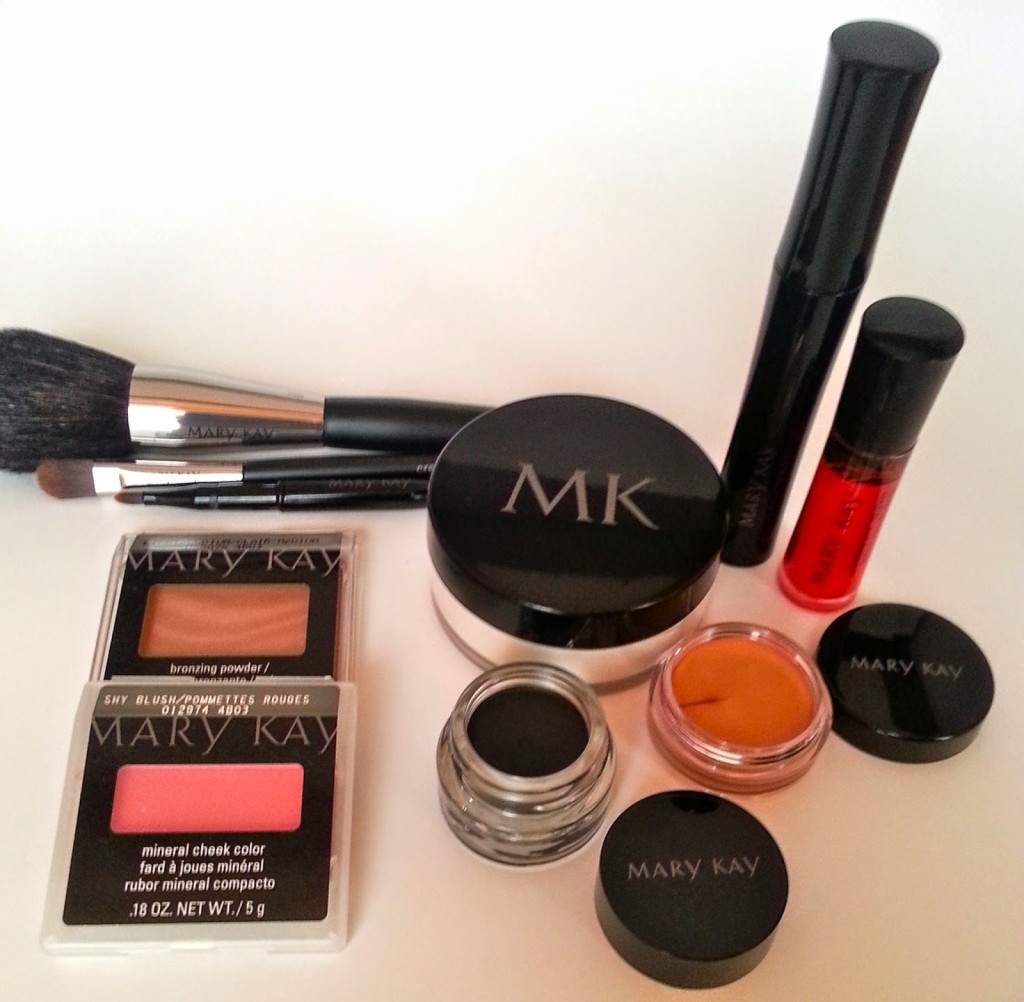 MY PICKS
As you may know, it's been
all about the lashes
with me for quite some time and Mary Kay does not disappoint with its
Lash Love Mascara
. I found it perfect for creating the super trendy thick spider lashes. The formula is richly pigmented and very wet so you'll have to be careful about keeping the mascara off your lids but because it's so wet, you'll be able to build and manipulate your lashes until your heart's content.
I also love the NouriShine Plus Lip Gloss. It comes in 14 colors with shimmer and non shimmer formulations. I received the Mango Tango which is a shimmer and it is gorgeous! I wasn't so sure about trying the orange lip trend this spring, but this luxurious gloss is a great way to ease into it. The color is great, it has a high shine factor and it's sheer enough to not overwhelm.
Next on my list is the Gel Eyeliner in Jet Black. It was remarkably easy to apply and has an amazing color payoff. It feels much more like a velvety cream than a gel which was a happy surprise. I was a little skeptical about the small applicator (pictured above) but its small size made controlling the liner placement a cinch. I may never go back to pencil liner again!
My last pick from the #MKGlam VoxBox is the Cream Eye Color in Apricot Twist. This champagne-colored shimmer is sheer and buildable with just enough sparkle to be worn day or night. Mary Kay offers nine shades with four shimmers and five matte colors.
I did try the Mineral Cheek Color in Shy Blush but the color is too light to be a blush for my medium brown skin. It does look good as a highlighter though so I will likely re-purpose it going forward. Same for the Bronzing Powder which was not so bronze on brown-skinned me.
All in all, I am very impressed with the offerings from Mary Kay this season. They are a serious contender for my beauty dollars in the future! Are you a fan of Mary Kay? What's your favorite product? Drop me a line in the comments or tweet me @patranila. You can get more information at MaryKay.com or on the Mary Kay Facebook Page. Thanks for reading!
All prices are suggested retail – available through Mary Kay Independent Beauty Consultants. The #MKGlam box was provided by Influenster for testing and review.
RELATED POSTS