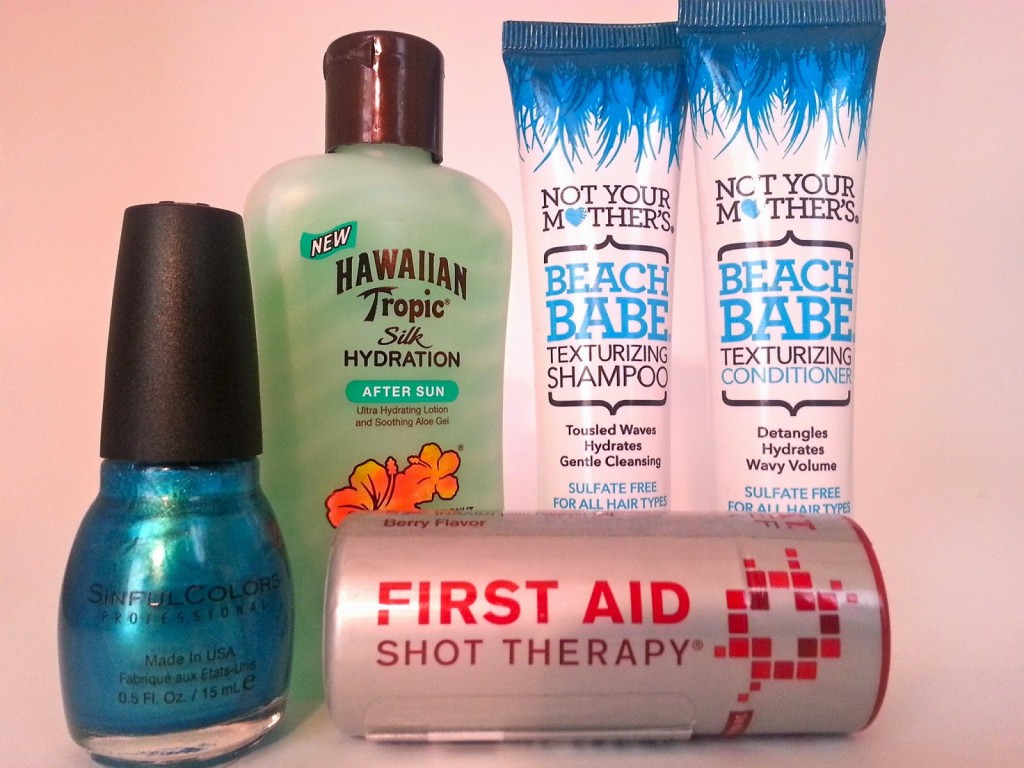 I love the beach! And by love, I mean I LOVE the beach. There's nothing better than the surf, the sun and the sand and if you throw in a warm ocean breeze, I am in heaven. This weekend, I'm finally going!! It will be my first beach trip in a couple of years and I'm so excited. My friends go fairly often but they always seem to choose days that I happen to be working but not this time! We're hitting the shore and my Surf's Up VoxBox from
Influenster
has arrived at just the right time.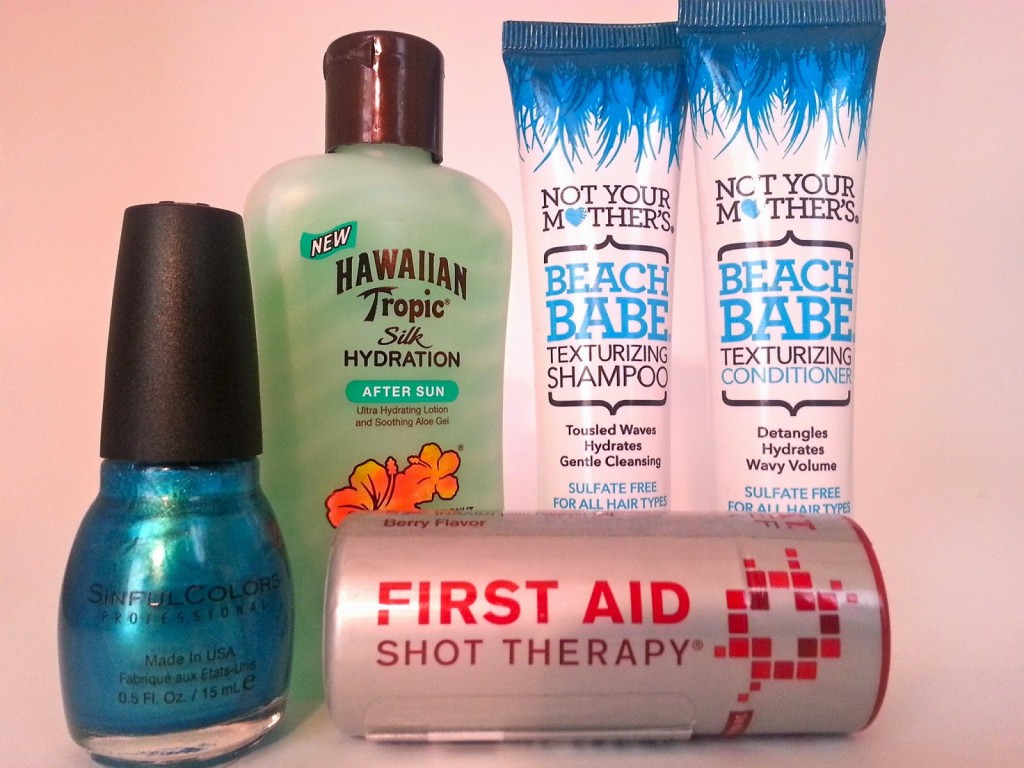 #SurfsUpVoxBox from Influenster.
Inside this VoxBox is a bevy of beach items to ensure that my day in the sun will be fun and fierce. First up is SinfulColors Professional Nail Polish in Aqua. My love affair with nail polish is well documented and I'm happy to add this shade to my collection. The color is gorgeous and in true aqua fashion, it is both blue and green. It also looks great in natural light and under flourescents. I like to wear several different colors at a time and this shade almost eliminates the need to do that. Sometimes it's blue, sometimes it's green. Win, win!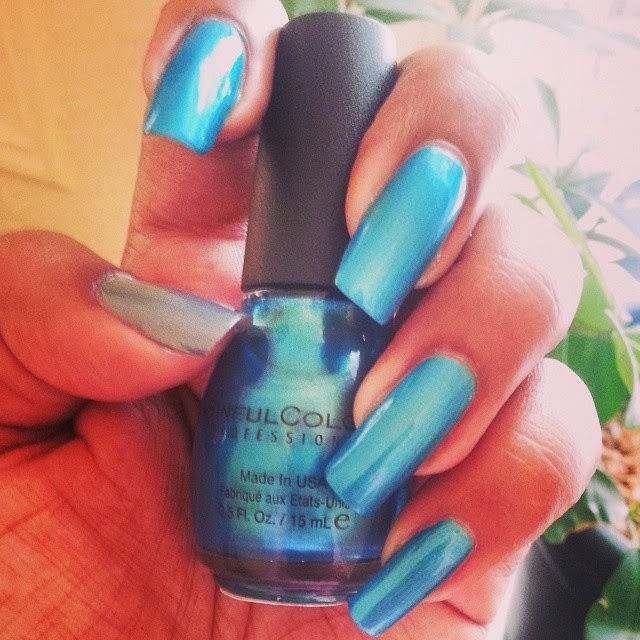 SinfulColors Professional Nail Polish in Aqua.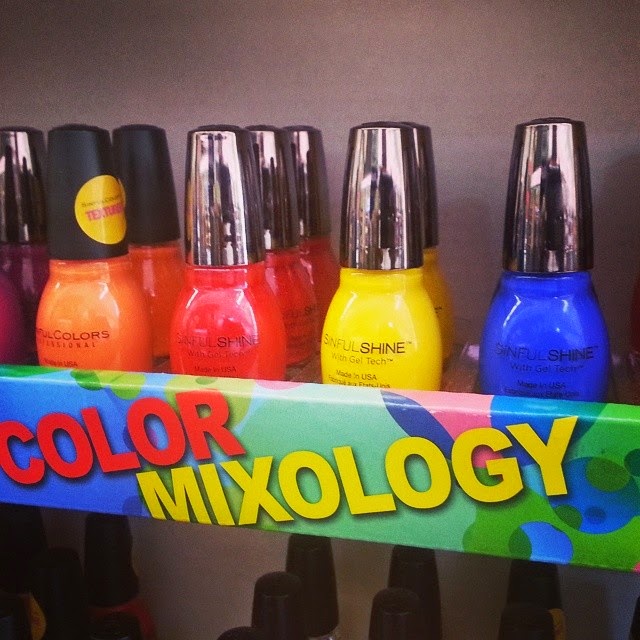 So many vibrant colors by SinfulColors and SinfulShine!
Next up is
Hawaiian Tropic
Silk Hydration After Sun. I'm already in love with this soothing aloe gel as it really came in handy after running
The Happiest 5K on the Planet
. Race day was super sunny and with nary a piece of shade in sight, the sun really did a number on my skin. This combination gel/lotion feels good, smells great (papaya and coconut) and provides lightweight, long-lasting hydration. It's a perfect summer skin refresher and I'm sure it's going to be great for my beach outing.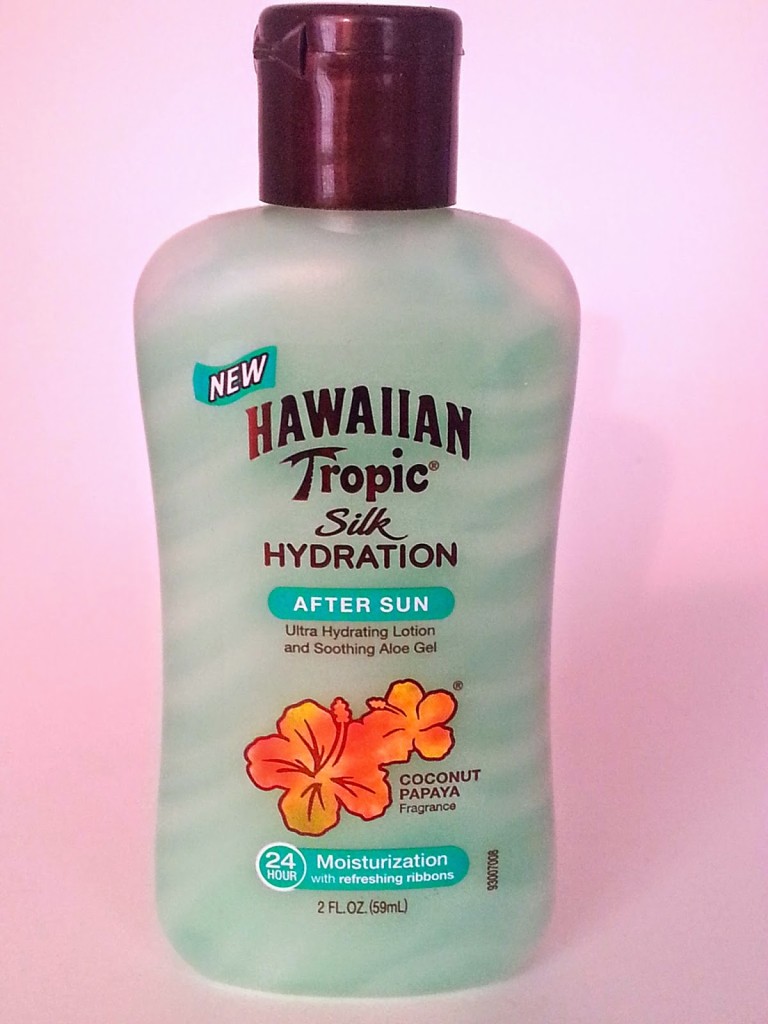 Hawaiian Tropic Silk Hydration After Sun
What's a trip to the beach without carefree beachy waves that blow freely in the breeze? Now you can wash the experience of the beach
into
your hair with
Not Your Mother's
Beach Babe Texturizing Shampoo and Conditioner. With sea kelp extract and coconut oil, this duo gives you great beach hair with no risk of getting sand in your eyes. Can't beat that!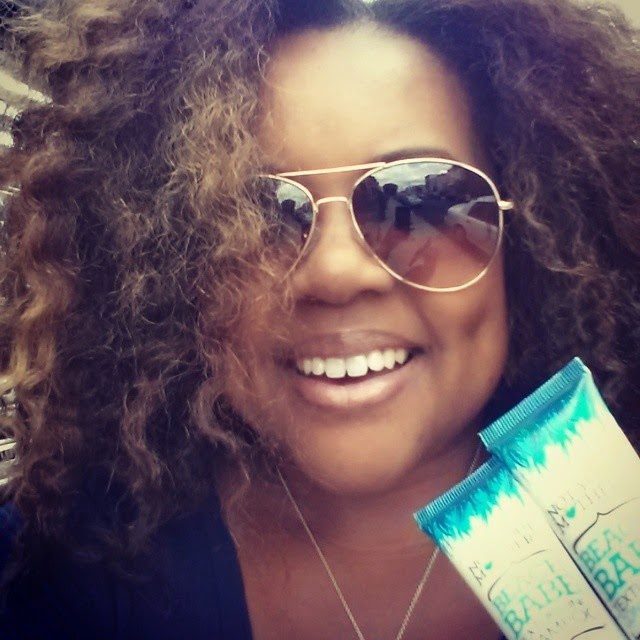 Me with a little Not Your Mother's Beach Babe Texturizing Shampoo & Conditioner.
Now, we move on to the yummy stuff. I love
Jamba Juice
but for some reason, I haven't had a single drop all summer. I think I work too much and I've been too busy to stop and get a smoothie! What gives?! Anyway, I'm super grateful that I received a coupon for a Jamba Juice Smoothie Kit. Just like the ones you get in-store, these smoothies are packed with delicious fruit, vitamins and antioxidants. All you have to do is add juice and blend. Can't wait to get mine!
Last but not least is
First Aid Shot Therapy
for Pain Relief. I'll be honest, I am completely unfamiliar with drinkable pain relief. Over the years, I've mastered swallowing over-the-counter painkillers with the best of them but in truth, that wasn't always the case. When I was a kid, pills were not my friend. It would take me an hour to get a single aspirin down my throat. It was something about a dry pill and where to put it so as not to choke that gave me fits. The degree of difficulty meant that I'd often give up and just live with the pain. Maybe if I'd had some First Aid Shot Therapy, I would have been spared a few rough nights! I'll try it out the next time I have a headache and I'll let you know how it goes.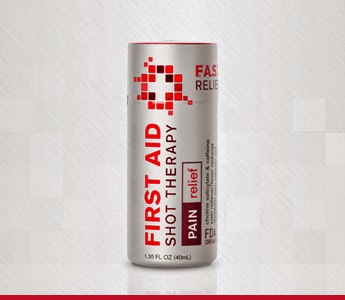 First Aid Shot Therapy 'FAST' in Berry.
The #SurfsUpVoxBox is the perfect complement to my summer beach babe plan. Follow along on my Insta-Journey for more pics of my visit to the shore and to see some of these goodies in action!
Thanks for reading!
I received the #SurfsUpVoxBox products complimentary for testing purposes from Influenster. All opinions are my own.