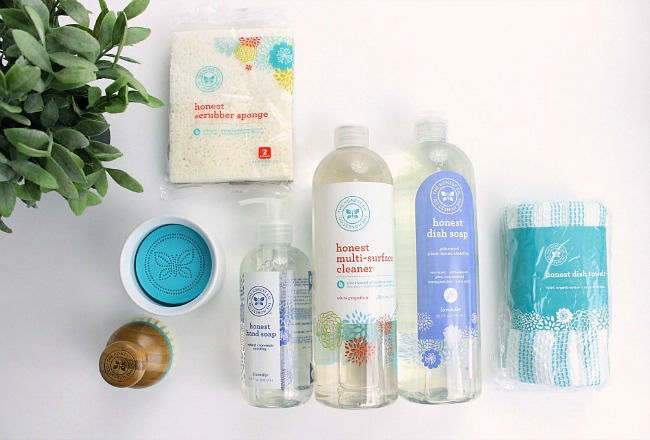 Full confession, I'm a straight up homebody and I make no apologies for it. I sometimes attribute my excessive at-home time to my work-at-home status but the truth is, I love being at home. Moreover, I like my home to look good. Scratch that, I need it to look good. My highly visual brain functions better when my surroundings are well-ordered, stylish and clean so I jumped at the chance to try the Happy Home Gift Set from The Honest Company. It's packed with non-toxic, plant based cleaning essentials and it was delivered right to my door! See how I finagle staying inside all the time? Mmm hmm.
Why Honest?
As I beauty and lifestyle blogger, I use a lot of products and my primary focus has been how well something delivers, be it lipstick, lotion or a scented candle. Lately, I've begun evaluating how safe those products are as well. As more chemicals are added to the products we use on a daily basis, it's more difficult than ever to limit our exposure to those harmful agents. The Honest Company focuses on creating products that are effective, non-toxic and sustainable. That's a three-way win in my book and to top it all off, everything is darned pretty!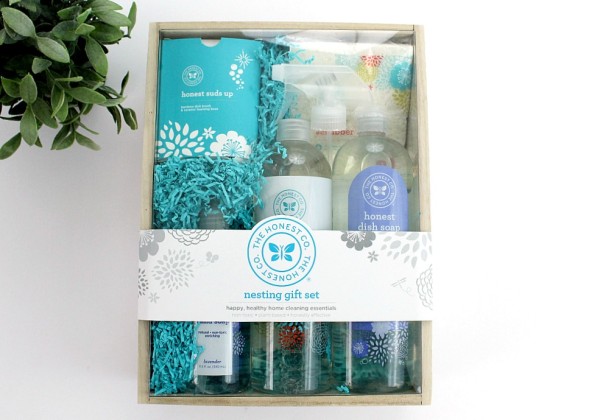 The Honest Company Happy Home Gift Set
What's Inside
Dish Soap – Lavender (16 fl. oz.)
Hand Soap – Lavender (12 fl. oz.)
Multi-Surface Cleaner (26 fl. oz.)
Two Dish Towels
Two Scrubber Sponges
One Suds Up Ceramic Soap Dish and Brush
I must first mention the delightful packaging. I love a snazzy shipping container and The Honest Company goes above and beyond with a well designed, colorful box that I refuse to commit to the recycling pile. It's too cute!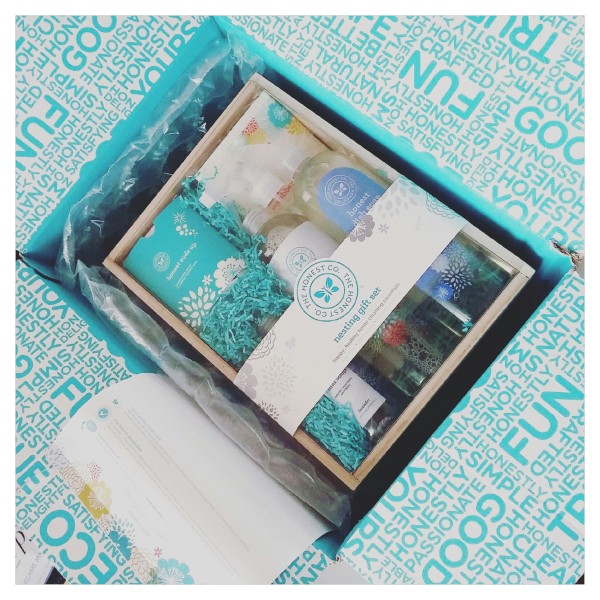 The first products pressed into service in my home were the Lavender Dish Soap and the Multi-Surface Cleaner because I was most interested in determining if they could replace my current products. The Lavender Dish Soap does a good job of cleaning dishes but the suds factor is not what I'm accustomed to. I found that I needed to use more of the liquid than I normally would to get through a load of dishes. The suds factor is lower because the chemical that produces those suds is absent from Honest products. It's a trade-off I can live with.
The Multi-Surface Cleaner works as a good addition to my traditional glass cleaner but won't replace it entirely because I wasn't able to get a streak-free finish on my mirrors with it. This is to be expected though as multi-surface cleaners don't typically do well on mirrors. I should note that I use my glass cleaner for everything except tubs and toilets so my expectations are, admittedly, a little skewed. However, the Honest Multi-Surface Cleaner worked far better on the other surfaces in the bath than I expected. I was amazed that I almost got a spray-and-rinse clean on my tub and the lovely white grapefruit fragrance is quite refreshing.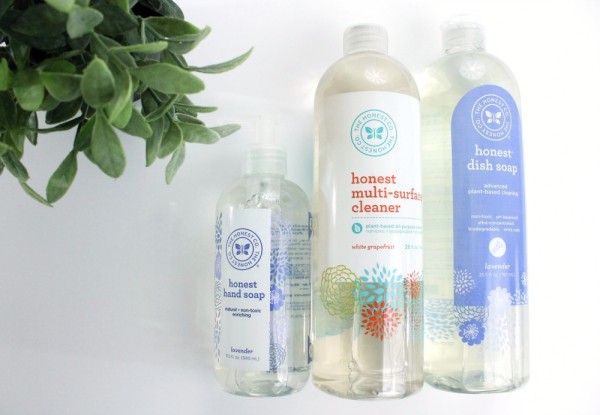 Next up was the Honest Hand Soap. Rich and lavender scented, this one is a winner. My current hand soap is really baby shampoo (also lavender) and the main differences are that the Honest Hand Soap doesn't contain the artificial dye to make it purple and it actually contains lavender and peppermint oils. I'll take that every time.
Honest Utility Items
The Happy Home Gift Set contains two scrubber sponges and two beautiful organic cotton dish towels. The sponges are the perfect size (4.375″ x 2.75″) and have a recycled plastic and walnut scratch-free scrubber feature on the back. They are free of heavy metals, harsh adhesives and PVC. Visit the Environmental Protection Agency for more information on greener options in cleaning supplies and check out Honest's Health and Sustainability Standards.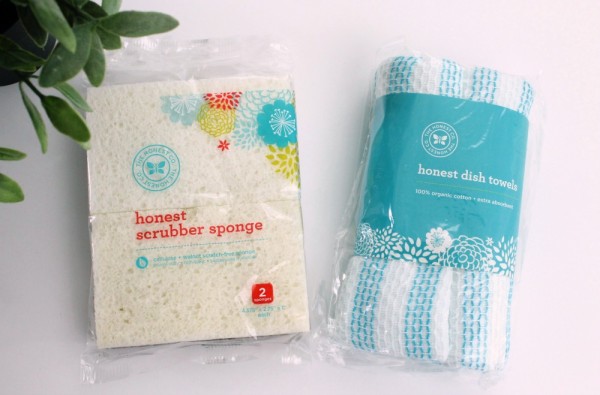 The Suds Up ceramic soap dish and bamboo brush is one of the cutest kitchen accessories I've ever seen. Full disclosure: I hate doing dishes. I mean capital H hate it, but this spring-loaded soap dish helps create suds and bubbles and let's me indulge my inner child bubble lover, while she grudgingly washes the dishes.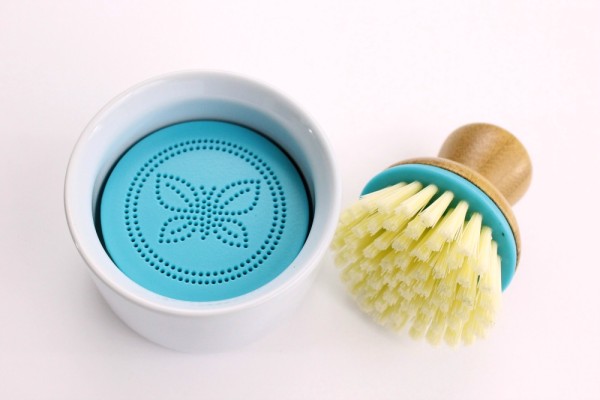 All the products come nestled in a recycled, reusable storage box intended to keep your cleaning supplies neat and tidy. However, I'm sure I'll use mine to house my overflow of beauty products. Priorities people.
How to Get Honest
The Honest Company offers a commitment-free, subscription service in addition to the option to purchase products individually. The subscription option is one of my favorite things because I adore subscription services. I love set-it-and-forget-it solutions and subscriptions take small things off my to-do list which adds up to a huge time savings. Then there are the cost savings you get when you bundle items from Honest. With a bundle, you can save up to 40% off the cost of purchasing products individually. The Bundles allow you to choose the products you want and set a delivery schedule so you only get products as often as you need them. If you don't set a delivery schedule, your bundles will ship on a monthly basis.
What kind of bundles are there? The Happy Home Gift Set products are part of the Honest Essentials Bundle which consists of a growing list of personal care and home cleaning products and costs $35.95/month. Honest now offers a Build Your Own Bundle (BYOB) option where you can customize a five-item collection for $54.95 per shipment. Shipping is always free and you can save up to 30% on each delivery.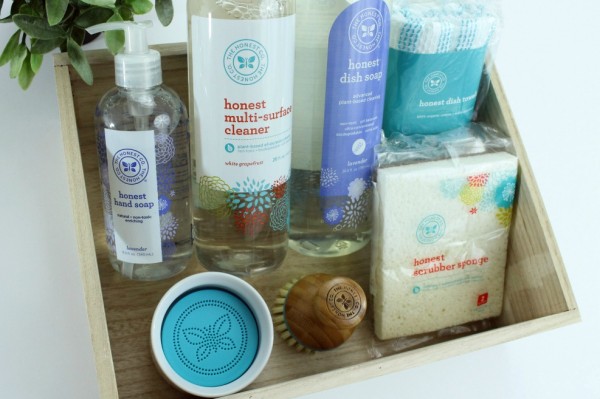 The Honest Company began with baby care items and has expanded to address many of your personal care and home cleaning needs. I'm sure you'll find lots of effective, non-toxic essentials to add to your stash. Share this with your friends and cheers to a happy home!
MORE HAPPY HOME POSTS