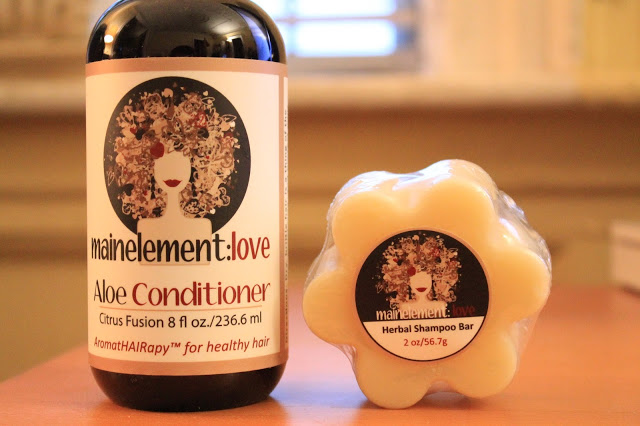 Hey Gorgeous! I have a little natural hair goodness for you today. The good folks at
mainelement:love
were kind enough to send me their Herbal Shampoo Bar and Aloe Conditioner in Citrus Fusion to try and I'm so glad they did.
This was the first time I'd used a shampoo bar and I was a little skeptical at first but I immediately realized the benefits of the bar. You can completely control where the product goes and since I have really thick hair that's also quite long, getting complete shampoo saturation is a task. Liquid shampoo requires more than a little agitation to get from root to tip and us curly girls know that agitation is not our friend. Using the bar was really easy and undoubtedly helped reduce tangling.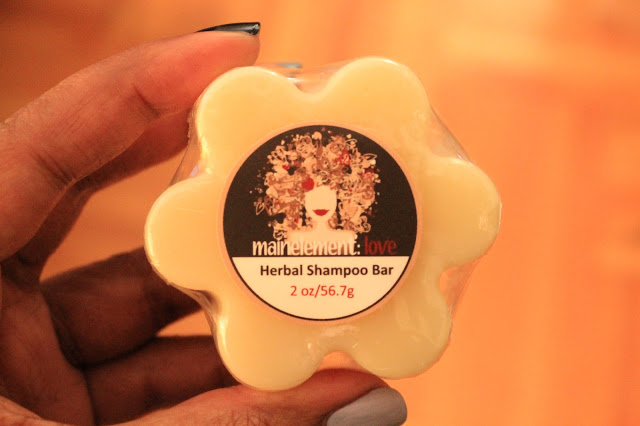 I lathered twice but really only needed one round as I found the Herbal Shampoo Bar to be both rich and clarifying. True to the product's claim, my hair did feel clean and well nourished. Made with shea butter, coconut, hazelnut and grapeseed oils, the bar is low sudsing and has a lovely woodsy scent that pairs nicely with the Aloe Conditioner in Citrus Fusion.
The conditioner was a little thinner than I expected but worked well. It didn't provide much slip but since I hadn't done much agitating in the shampoo phase, I didn't mind as much. The fragrance is strong and if you like citrus, you'll love this. My bathroom smelled like a lemon grove when I was done. It was rather nice!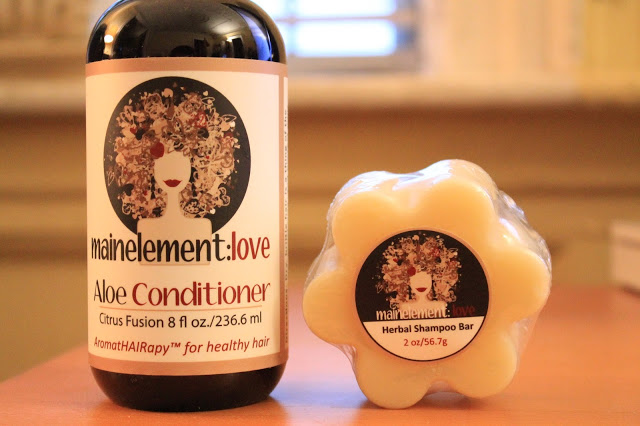 Shampoo Bar and Conditioner Results
After combing through with the Aloe Conditioner and rinsing, my curls were super soft, bouncy and really well defined without any manipulation on my part. I usually need a leave-in or other styling product to get as much bounce and definition. The conditioner can also be used as a leave-in and I may try that next time.
The Herbal Shampoo Bar ($8) and the Aloe Conditioner in Citrus Fusion ($16) are available at mainelement:love.
Have you tried any mainelement:love products or have any favorites? Sound off in the comments! Thanks for reading and sharing!
RELATED POSTS