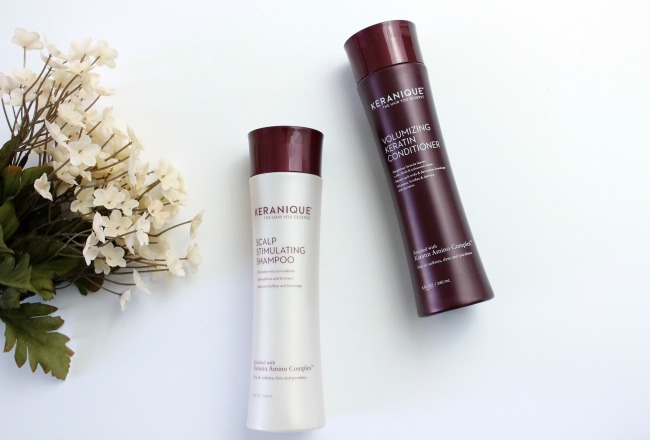 Among the many hair concerns available to stress over, volumizing has never been one of mine. I've always had really thick hair that I've struggled to keep from being too big at times. Now, before you roll your eyes at me, you should know that though my hair is thick it is quite fragile. Fragility leads to breakage and breakage is never pretty no matter how much hair you have. This is why I was rather happy to try the Keranique Clean & Condition Set which is designed to strengthen hair follicles in addition to creating volume.
The Clean & Condition Set consists of the Keranique Scalp Stimulating Shampoo and the Volumizing Keratin Conditioner. Both are enriched with a proprietary Keratin Amino Complex and are free of sulfates, dyes and parabens. I always look for hair products that are sulfate free, so Keranique is off to a really good start. Here are the promises: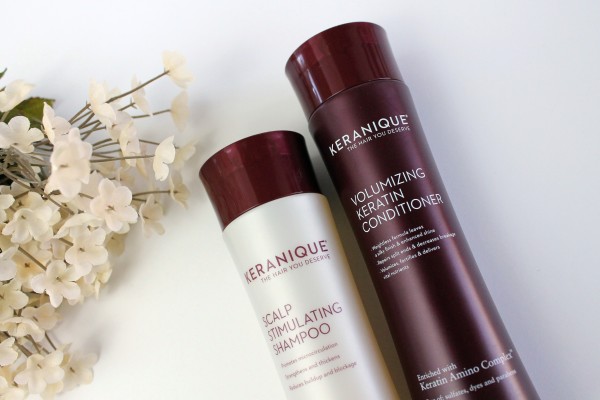 Keranique Clean & Condition Set Benefits and Product Claims
Keranique Scalp Stimulating Shampoo
Promotes microcirculation.
Removes build-up.
Protects against cuticle damage.
Strengthens and thickens.
Keranique Volumizing Keratin Conditioner
Conditions and volumizes fine hair.
Improves manageability, combability, detangling and conditioning without weighing hair down.
Adds body and volume.
Improves hair strength and provides anti-breakage protection.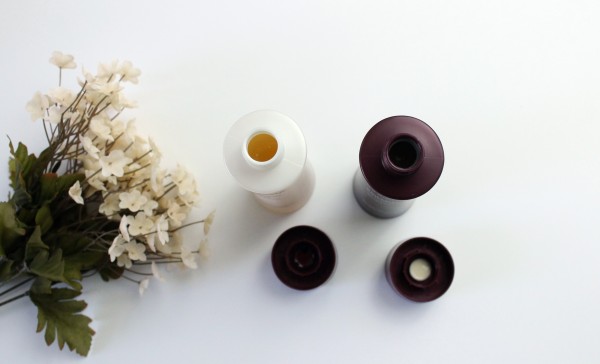 How to Use Keranique
Apply shampoo and conditioner to the hair and let each product remain for one to two minutes. Easy enough.
My Experience with Keranique
Keranique Scalp Stimulating Shampoo
Though sulfate-free, it did create a nice low-suds lather. I don't shampoo my hair often as I'm mostly a no-poo girl but when I do, I need one that is clarifying for my hair and strong enough to cleanse my scalp well. I lathered twice with the shampoo that surprisingly provided a bit of a tingling sensation. That's the stimulating part I suppose. Though not accustomed to so much tingle, I found it refreshing.
Immediately after shampooing I was a little concerned because my hair felt stiff. I'm used to soft, spongy curls after a shampoo. However, my hair did feel clean without feeling stripped in any way. Always a good sign.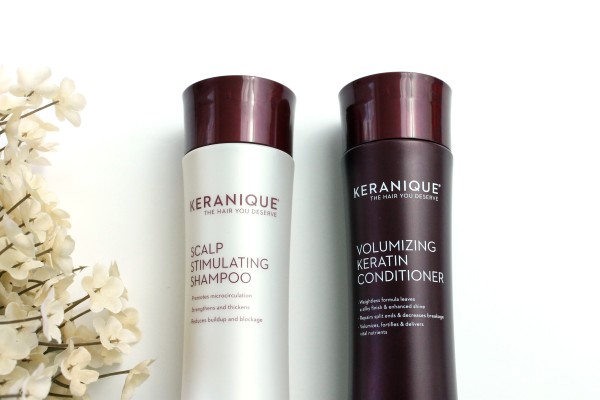 Keranique Volumizing Keratin Conditioner
I expected the conditioner to be thicker than it is. Usually thinner conditioners don't do much for my hair and I end up using a ton of product to get good coverage. However, the Keranique surprised me again. It took about three handfuls to completely coat my hair and, of course, my super thirsty hair drank it all in. I left the conditioner on for about ten minutes and was truly amazed by the ease with which I combed it through. It was the easiest comb-through I have ever done. That's saying a lot.
In addition to the amazing comb-ability, my hair was super soft after a solid rinse. Super soft. Which completely erased my memory/concerns about stiffness after the shampoo. Two giant thumbs up for the Volumizing Keratin Conditioner.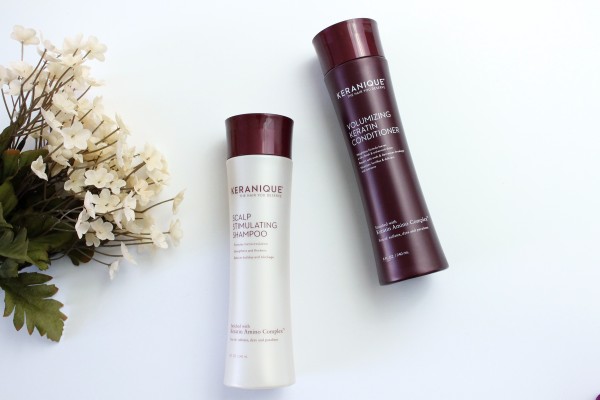 In Summary
The Keranique Clean & Condition Set is a definite winner. It's serious hair care that delivers on its promises. I'm even in love with the shape of the bottles. The tapered middle fits perfectly in my hand. The shampoo may be a too harsh for regular use so if you have a sensitive scalp, I recommend using it every few washes. It tingles, cleanses well and has a slight medicinal fragrance.
The conditioner is a hero. It provides excellent slip and has a silky, amazingly touchable finish. As I mentioned above, my hair's manageability and combability was unmatched. It has a mild, minty fragrance and is not at all sweet smelling. I highly recommend it.
[Tweet "Keranique Scalp Stimulating Shampoo deep cleans and tingles too!"]
Where to Buy Keranique
The Keranique Clean & Condition Set retails for $49.95 for the two 8 oz bottles. The individual products retail for $34.95 each so the set is a bargain. As a lucky TPP reader you get 25% off any Keranique purchase when you shop online at keranique.com. Use promo code: THICKER25 at checkout. Offer expires 12/31/15.
The Set and the individual products are also available here, here and here.
UPDATE: Keranique is now available at Sephora! The Scalp Stimulating Shampoo and the Volumizing Conditioner are only sold separately and each retail for $30.
---
These products were provided to me by iFabbo for testing and review purposes.
MORE HAIR CARE ON THE PATRANILA PROJECT