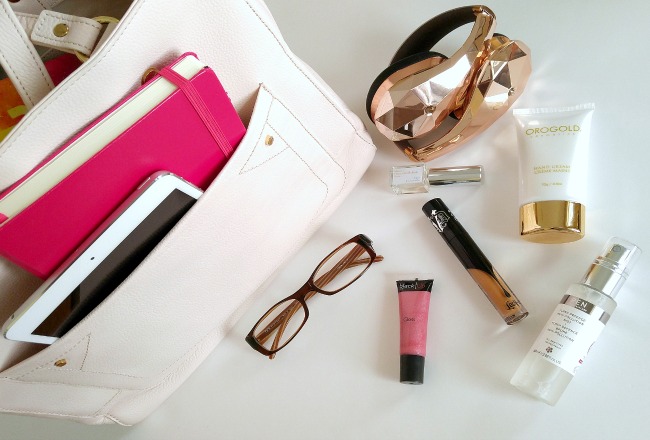 Today I'm spilling what's in my bag for fall. Let me say right up front, I try to travel light (OK, as lightly as possible) because New York is a travel-by-foot town and I can't afford to be weighed down with a heavy bag. My shoulders don't need the extra tension. The challenge then, becomes to carry everything I need without stressing my frame and trying my patience.
Full disclosure, I do have a small go-everywhere pouch that contains a mirror, waterproof eyeliner, pressed powder and lip balm that I'll elaborate on in another post on year-round essentials but for today, I'm focusing on some new additions for Fall 2016.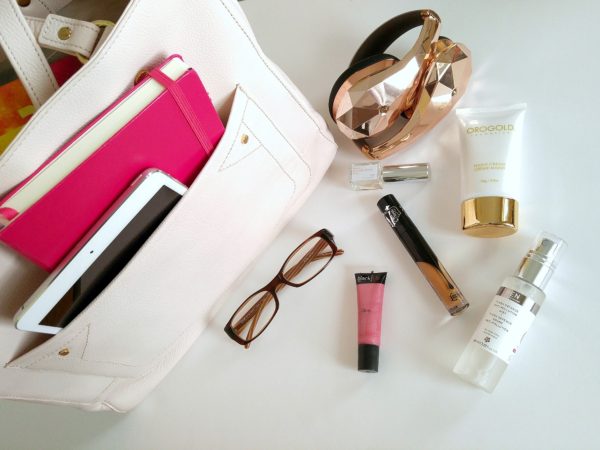 Letizia Tote c/o Macy's Backstage
What's In My Bag For Fall
Makeup and Skincare
I usually 'cement' my face before I leave home so I don't need to carry much makeup. I do always have a lip gloss or lipstick because I never color my lips before getting on the subway. Long story, don't ask. I also always have a concealer or travel size foundation for emergency touch ups. I'm loving the new Kat Von D Lock-It Concealer, it's invisible.
For freshening, moisturizing and free-radical fighting, I carry a small bottle of REN Skincare Flash Defence Anti-Pollution Mist. It feels good, smells good and helps prevent premature aging. Win!
And of course, I don't leave home without hand cream. I switch between the Crabtree & Evelyn La Source and the Orogold 24K Hand Cream. Both are rich, creamy and long-lasting.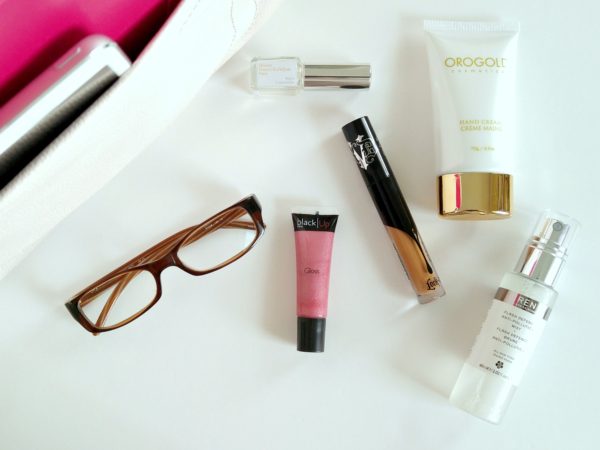 Fragrance
I don't usually wear a fragrance but every so often I find one that I simply love. The Maison Francis Kurkdjian Aqua Universalis came as a sample in a Paris-themed Glossybox several months ago and it took me forever to try it. Big mistake. It's subtle and heavenly.
Entertainment, Edification and Productivity
Long commutes on the subway are perfect for music breaks and blog reading and for that I turn to my snazzy Diamond Tears Headphones by Monster and my iPad mini. I wrote about the headphones earlier this year and I still love them. They're so pretty!
If you've been following me on Instagram or Twitter, you know that I've developed a full-blown obsession with bullet journaling. Not familiar? Just search 'bullet journal' on YouTube or Pinterest and you'll understand why. It's a planning/journaling system that offers complete freedom, flexibility and customization for your daily planner. I am in love with mine so far and I take it everywhere. I'll do a flip-through video soon so stay tuned for that!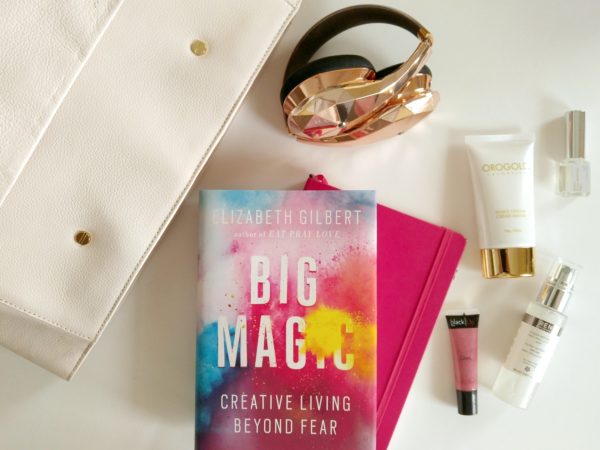 After reading The Desire Map this summer, I've moved on to Big Magic by Elizabeth Gilbert of Eat, Pray, Love fame. So far, it has been great at teaching me how to live with my fears instead of trying to ignore them or letting them control me. I'm looking forward to ending the year with a substantially satisfying body of work. #TheArtistsLife
I know it seems like a lot of stuff to carry for entertainment/distraction but I never know what mood I'll be in. I'd rather have too many options than too few.
The Bag
I'm all about a good tote because I need the room. Obviously. I've had my eye on the Louis Vuitton Neverfull forever but haven't been able to justify the cash outlay yet. It's on my Christmas wish list though! I like a bag with structure and pockets that is sturdy enough to take a beating. I am less than delicate with my purses. This leather tote by Letizia is great and I love the pebbled finish and subtle gold details. It has pockets galore which makes it much easier to find stuff in a hurry.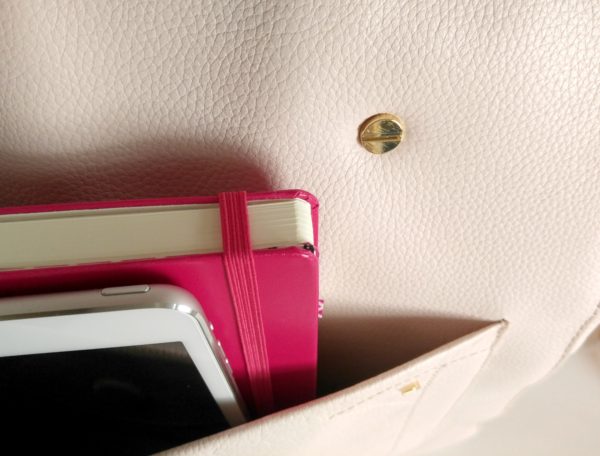 Letizia Leather Tote c/o Macy's Backstage
I hope you enjoyed your sneak peek into what's in my bag for fall and I'd love to know what goodies you love and carry every day. Drop a comment below or tweet me, with pictures! Stay saucy my lovely!
Shop This Post
RECOMMENDED FOR YOU