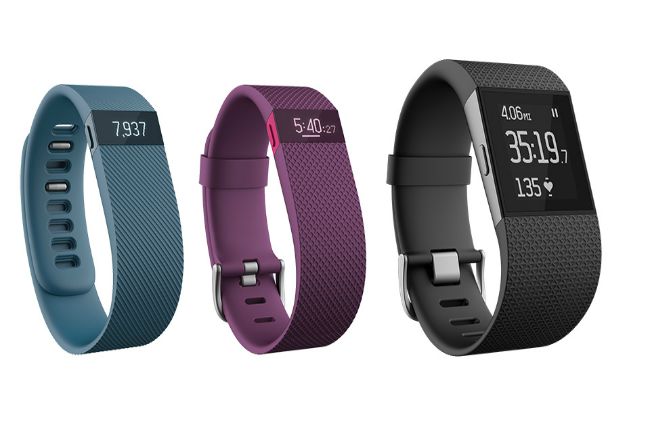 My word for the year is elevate which means I'll spend a good deal of time looking for ways to raise my standard of living in both large and small ways. As you know, big changes require consistent small steps and my first small step toward elevating my fitness level is my brand new Fitbit Charge Fitness Tracker. It's the best activity tracker on the market!
I am in absolute, complete love with my Fitbit Charge. I don't use the word obsession lightly, but in this case, it is totally appropriate. I am constantly checking my stats, updating my daily intake and tracking my results. I think I look at my Fitbit Dashboard more than I look at Candy Crush screens and, trust me, this is not an insignificant amount of time.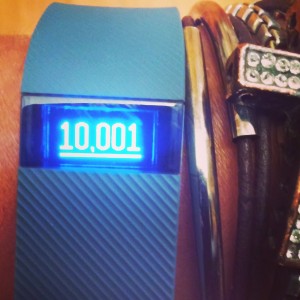 Not familiar with Fitbit? It's an activity tracker that measures your daily steps, calorie intake/output, stairs climbed, distance traveled and sleep quality. It syncs wirelessly with your phone and/or computer and shares data with other fitness apps like Lose It! and Nike+ Running as well as wireless scales like Fitbit Aria. How does all this technology and connectivity help you? Information is power and the more you know about your eating and activity/exercise habits, the faster you can reach your fitness goals.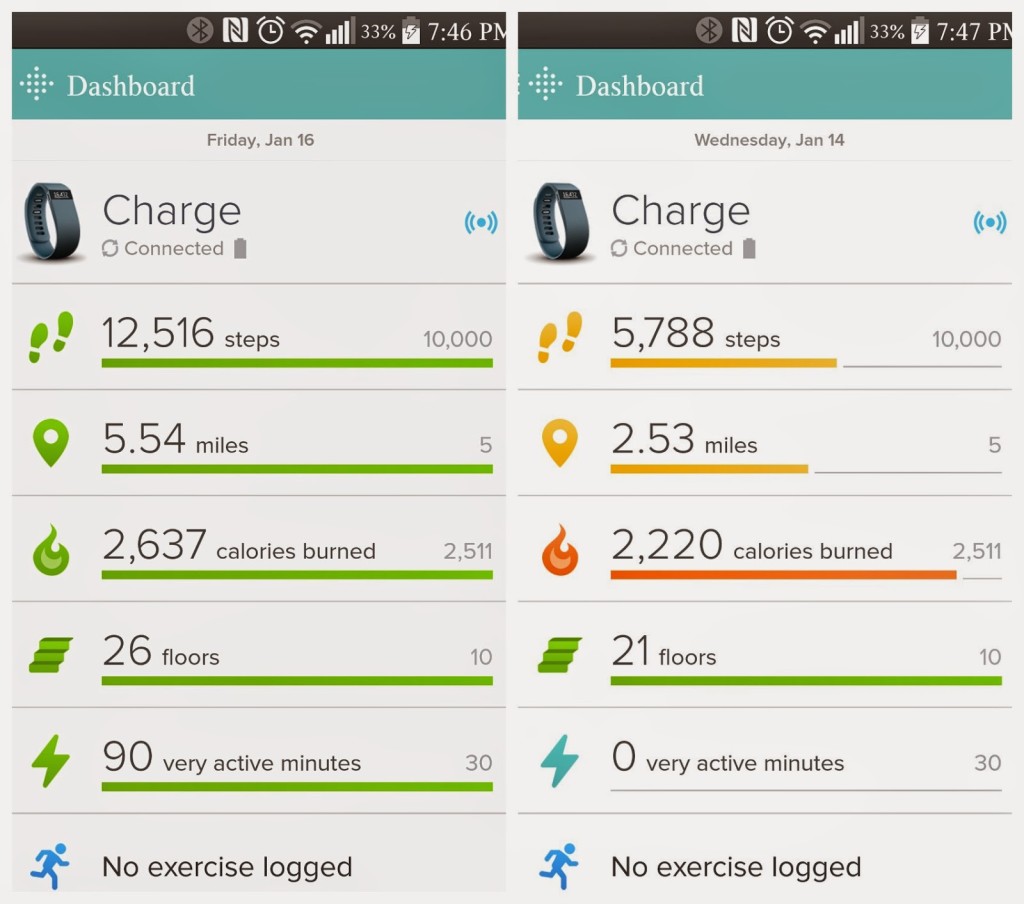 Great day on the left, so-so day on the right.
Like a lot of people, I lead a rather sedentary lifestyle. Most of my work is done on computer which means lots of sitting down time and because I work from home a lot, days can go by when I don't leave the house. Great for my winter hibernation practice but not good for getting in those 10,000 steps. But since I've had the Fitbit Charge fitness tracker, I make more of an effort to be active even if I don't go outside. I make sure to climb the steps a few times to reach my floors climbed goal and I've even done living room laps to reach my steps goal. I have been scolded on Facebook about revealing that last one though; apparently it's a Fitbit Society secret. Who knew?!
[Tweet "Let technology help you reach your fitness goals faster! #FitBitNation"]
Here are all the deets on the Fitbit Charge Fitness Tracker:
Tracks your food intake in app but can also sync with other food trackers.
Tracks your steps, mileage, stairs climbed, activity level, water intake and weight.
Tracks your walking, running or hiking workouts.
Tracks your sleep activity and records nighttime restlessness.
Syncs wirelessly across devices for up-to-the-minute information.
Connects with your fitness-minded friends and provides a leader board for challenges and general merriment.
Extras:
Set daily alarms.
Syncs with your phone and displays Caller ID.
Sends you reminders to get moving.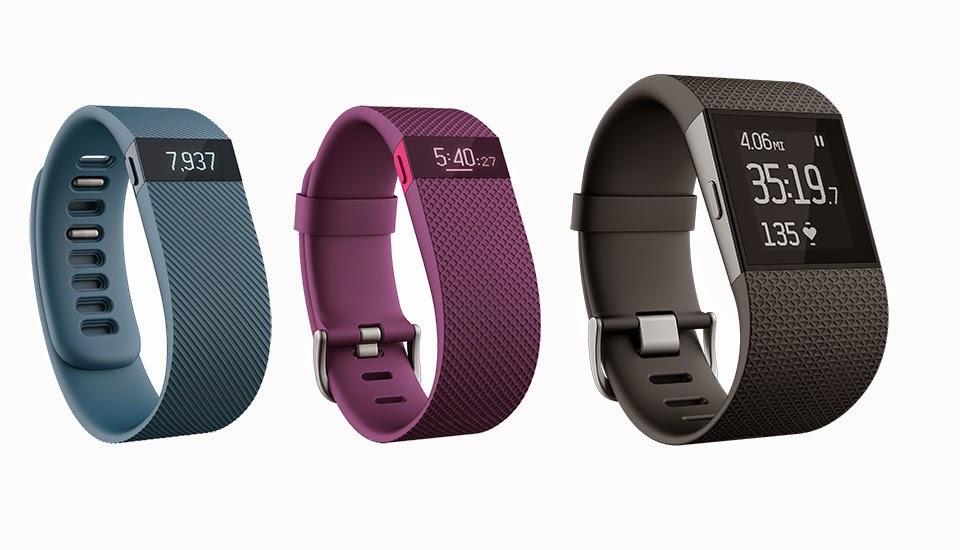 Fitbit Charge, ChargeHR and Surge
The Fitbit Universe is broad and all encompassing. I have the Charge but there is also the Flex, the ChargeHR for active fitness/heart rate monitoring and the Surge for performance fitness. These are all worn on the wrist. There are also the Zip and the One that can be worn on different parts of your body or carried in your pocket but they track less data. With all the different options, you are sure to find one that fits your needs and your budget. They are all available at Best Buy or on Amazon so get shopping and get active!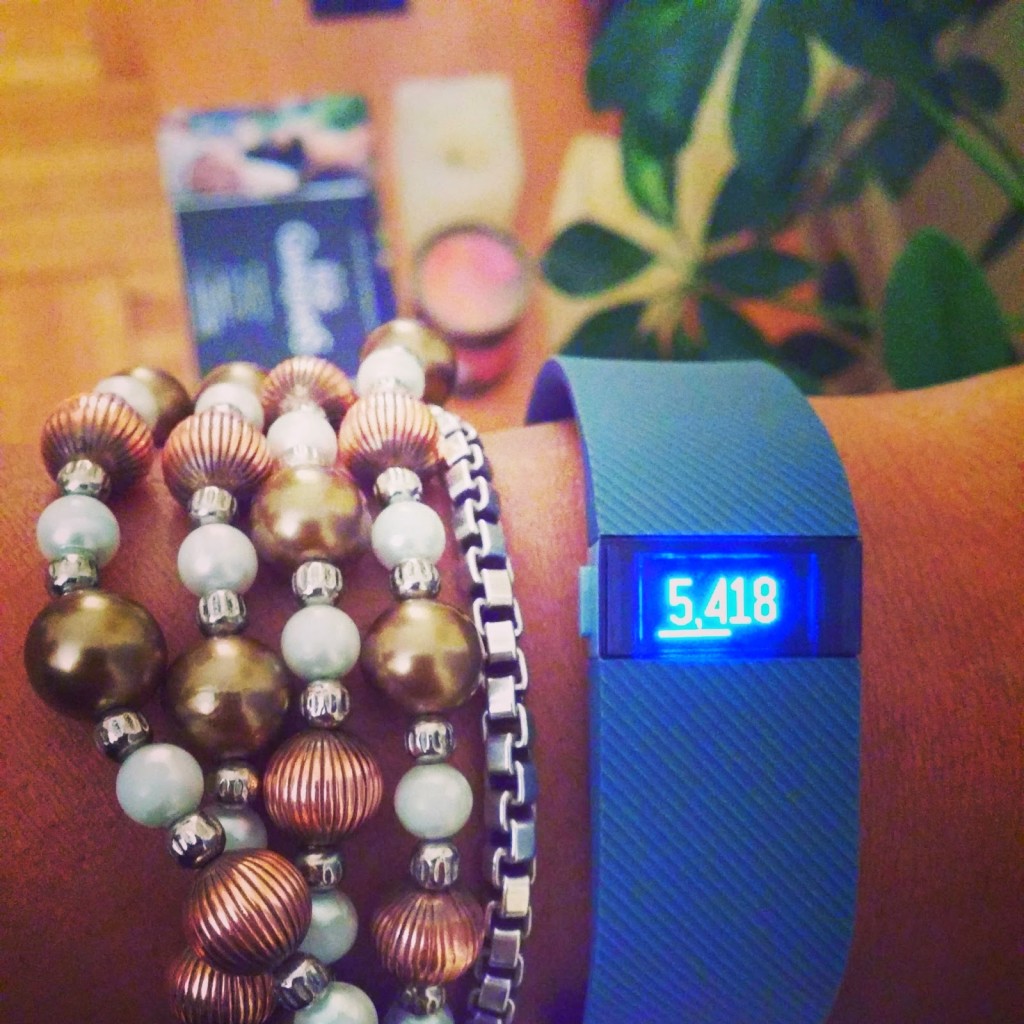 At the midway point on my first day.
Thanks for reading and sharing with your friends!
RELATED POSTS
---
Shop Fitbit and Fitbit Accessories