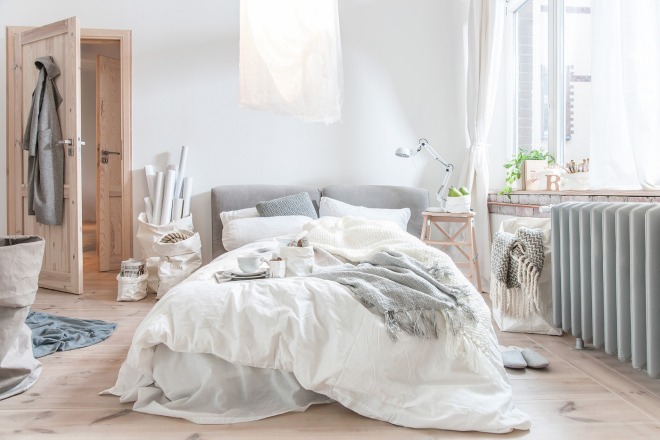 Hygge (hoo-gah) is an old Danish concept that helps Danes get through their long, dark winters. As more and more of us are gearing up for additional stay-at-home time, I've pulled together a few ways to help you weather this coming season in comfort and style. And by the way, it doesn't need to be wintertime for you to get started! Hygge is completely season-agnostic!
What Is Hygge?
Roughly translated as coziness, hygge means creating a warm atmosphere and enjoying the good things in life with good people. This, of course, is subject to interpretation so today I'm sharing my take on hygge and I hope you'll be inspired to create some cozy of your own. You deserve it! We all do.
Creature Comforts: Hygge In the Bedroom
Since I begin and end my days in my bedroom, I'll start there. First up is my bed, of course. It's a wonder that I fight going to bed so much considering I have the most comfortable bed ever. It's a queen-sized Kingsdown Diamond Royale that completely engulfs me in its plushness and I love it.
Every time I get in bed I think to myself 'why have I not been here all day? Silly woman!' Personal preference is a big factor in the selection of a bed but whatever firmness level you prefer, your bed is the best place to start your hyggelig living journey.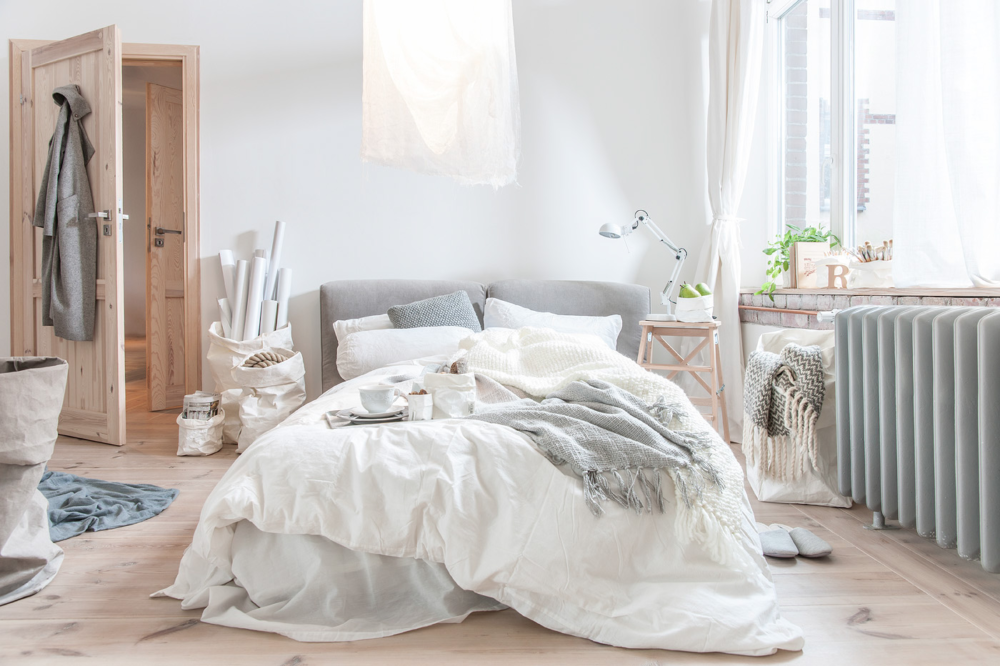 This Kingsdown Passion Imagination is similar to the one I have and Macy's is currently offering a ton of lowest-price-of-the-season deals on select mattresses.
Not in the market for a new bed? Make the bed you have more comfortable with a plush mattress topper, down pillows, a lavender neck roll or a full-on body pillow if you want. Tip: they're not just for pregnant women.
Cozy Bedding is Essential
And don't forget your bedding. Hygge demands soft and quilty goodness and down comforters always win in my book. I have given up on top sheets and currently sleep under two down comforters of varying weight. I know, I'm extra. One of them is covered with a 600-thread count duvet like this one and the other is naked and unashamed.
Shop My Hygge Bedroom Edit

Elevate Your Bathroom for a Spa-like Experience
I just bought and installed a new three-way rainfall shower head and let me tell you, a rainfall shower head is a major step toward turning your bathroom into a spa. I also picked up a few new fluffy washcloths and over-sized towels.
Other easy bathroom upgrades include adding fresh greenery or flowers, scented candles or aromatherapy oils. My bathroom counter space is severely limited and every nook and cranny is dedicated to beauty products so I recommend using wall and ceiling space for added features.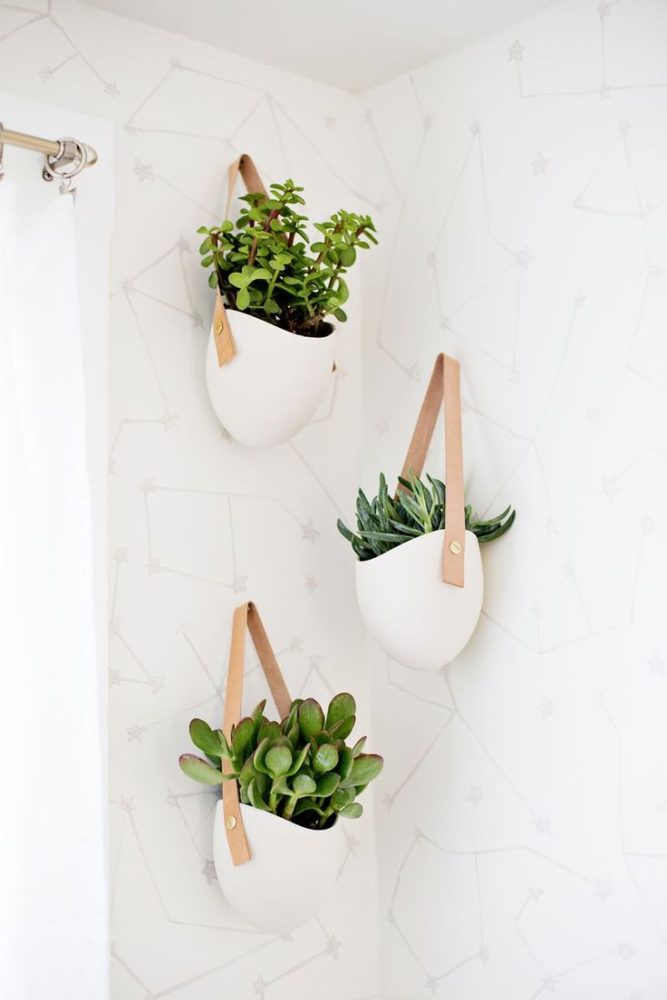 You can also add a bunch of eucalyptus branches to your shower for aesthetic and health benefits. Eucalyptus clears congestion, mental fog, soothes aching joints, fights inflammation and boosts your immune system. That's a lot of bang from a few branches!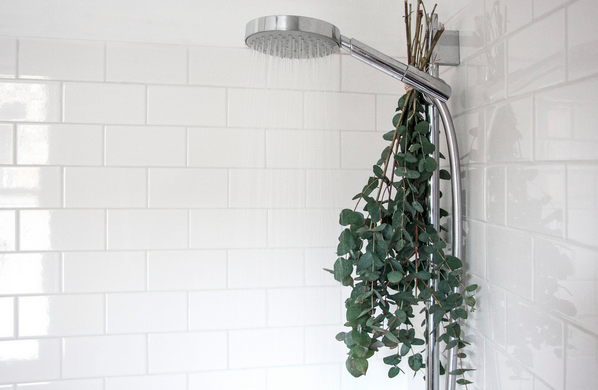 Turn Your Bathroom into a Spa

---
---
Living Spaces – Simplify to Amplify
Lighting a few well-placed candles does not a hyggelig home make, it's more of a philosophy. Simplifying and slowing down to create room to enjoy the small joys of life is more to the point. And this is where it really gets fun for me. I'm of a mind to combine the uber popular KonMari Method with hygge for the ultimate in hyggelig living.
I recently posted a video on how I organized my makeup using some of the techniques found in the book, The Life-Changing Magic Of Tidying Up: The Japanese Art of Decluttering and Organizing and now that I've discovered hygge, I see an international marriage made in heaven.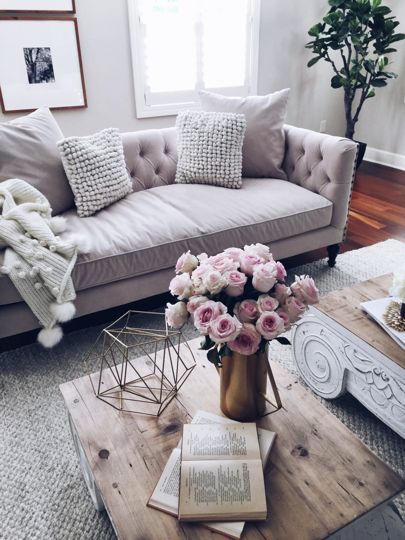 ---
KonMari and Hygge Combined
Step 1 – Get rid of everything you no longer need, want, have use for. In KonMari terms, if it doesn't spark joy, it goes.
Step 2 – Further reduce clutter by designating a place for every item in your home. Don't skip this step because doing so can derail your whole plan!
Step 3 – Rip out all your overhead lighting and replace it with human-level or lower lighting. Overhead lighting is the devil. Trust me on this. Also, put everything on a dimmer.
Step 4 – Up your cozy quotient. Add comfortable throws and thick pile rugs where needed. And be sure to have convenient places for you and your guests to set your drinks.
Step 5 – Invite your friends/family over and enjoy!
---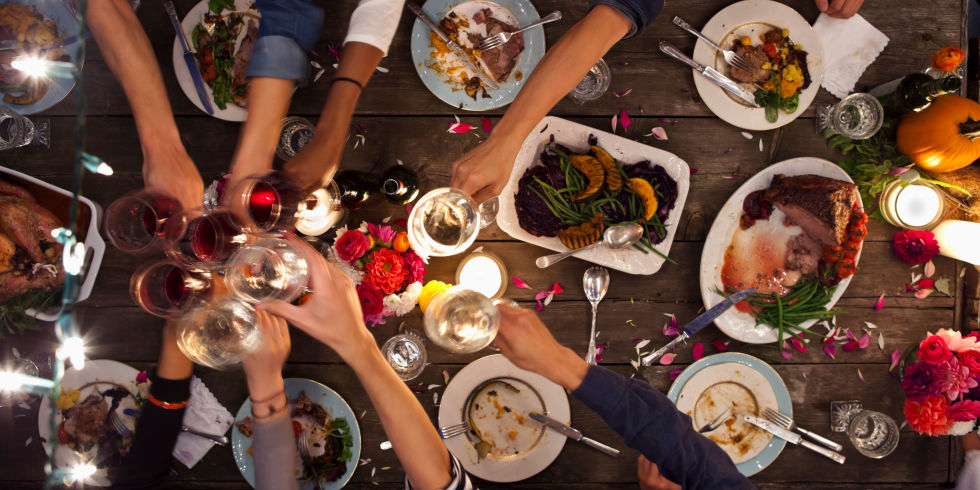 Of course, I won't be talking about kitchens and cooking and things of that nature today because, like Carrie Bradshaw, I use my oven for sweater storage. But I imagine there are lots of ways to hyggelig one's kitchen, I just can't help you with that. 🙂
To Recap
The Danes, in all their happiest-people-on-the-planet wisdom, have developed a philosophy to get them through the cold, dark times in life. I'm taking it as a literal and metaphoric darkness because there's plenty of that to go around and we could all stand to ease our stress and make our lives as comfortable and joyful as possible. These are the things that will help give us the energy to tackle all those pesky problems, both large and small.
Stay saucy my lovelies and live hyggelig!
More Tips to Survive Winter
---
RECOMMENDED FOR YOU