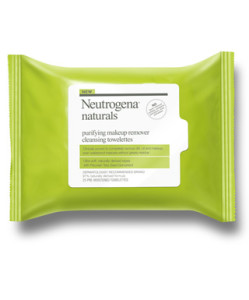 Join the Neutrogena #WipeForWater Movement.
This year, Neutrogena Naturals is partnering with The Nature Conservancy to help save water. With the western U.S. facing serious drought conditions, this partnership couldn't have come at a better time. The average U.S. household wastes about 10,000 gallons of water every year and every day, about five of those gallons are used for washing your face. Luckily, Neutrogena has figured out a way to save those gallons and also keep you at your beautiful best.
Made from 100% renewable fiber, these soft wipes completely remove dirt, oil and makeup without leaving any greasy residue, so there's no need to rinse. Personally, I was super excited to try these cleansing towelettes because I have been known to go to bed many a night with a full face of makeup because I rarely feel like going through the process of removing it. First there's the eye makeup remover, then the regular makeup remover, then the actual washing, OMG! Give me a break. The Neutrogena Naturals Cleansing Towelettes work great! I was initially skeptical about the no-rinse factor but it's true, there's no need for water at all. Which for me means I don't need to stand at the bathroom mirror to get a clean face. I can do it while watching Friends re-runs. Score!
You can join the #WipeForWater Movement and reduce your water footprint by pledging to clean your face without water for three days. Visit the
WipeForWater
site for water conservation tips and to pledge your support for Mother Earth. For each pledge, Neutrogena Naturals will contribute $1 to The Nature Conservancy. Go ahead! You know you like to do good as well as look good!
UPDATE: After using the wipes for a few days I noticed some rather alarming breakouts so I recommend that you do indeed use a little water to rinse the cleansing solution from your face after use. The wipes still work well to remove makeup but they're not a true water-free option for me.
*I received this complimentary product for testing and review.