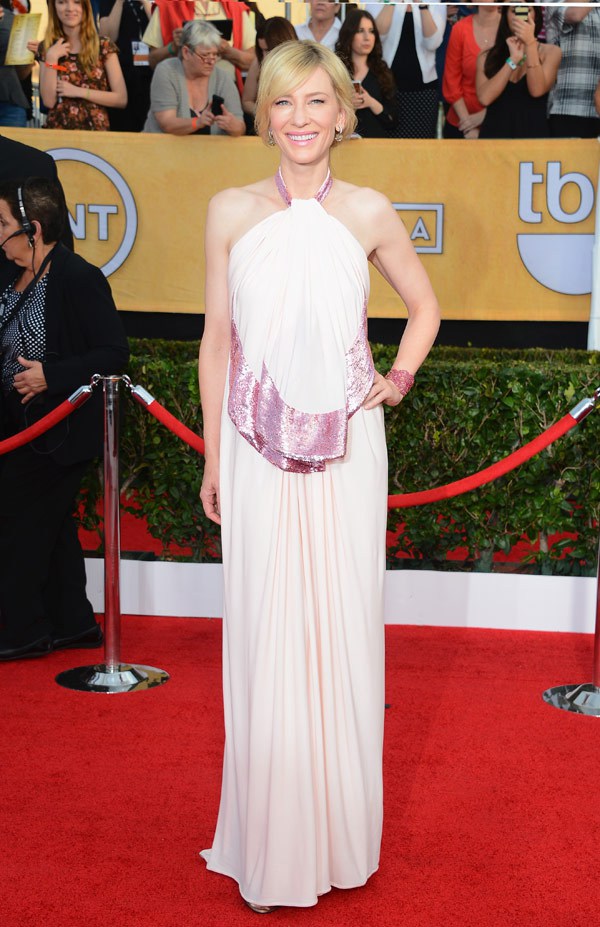 Awards Season is clicking along at a brisk pace with all but two major shows behind us. Last night the stars of both screens, big and small, strolled the red carpet of the 20th Annual SAG Awards to receive acting honors from their peers. I admit, the SAG Awards are my favorite ceremony because as a SAG-AFTRA member, I have a say in who gets to cross that stage and claim a trophy. It's particularly thrilling to see someone I voted for (or nominated as part of the SAG Nominating Committee) actually win! Almost every SAG Award winner talks about the special meaning of being recognized by a body of your peers who have intimate knowledge of the joys and struggles of being a working actor. Kudos to all the winners and let's get down to the matter at hand–who rocked the SAG Awards 2014 Red Carpet!!
Best Dresses on the SAG Awards 2014 Red Carpet
To my great surprise, Cate Blanchette was considered by some to be on the worst dressed list in this gown by Givenchy. I beg to differ. I loved the flowing drape and the color. It felt very fresh to me and she might even be my best dressed for the evening.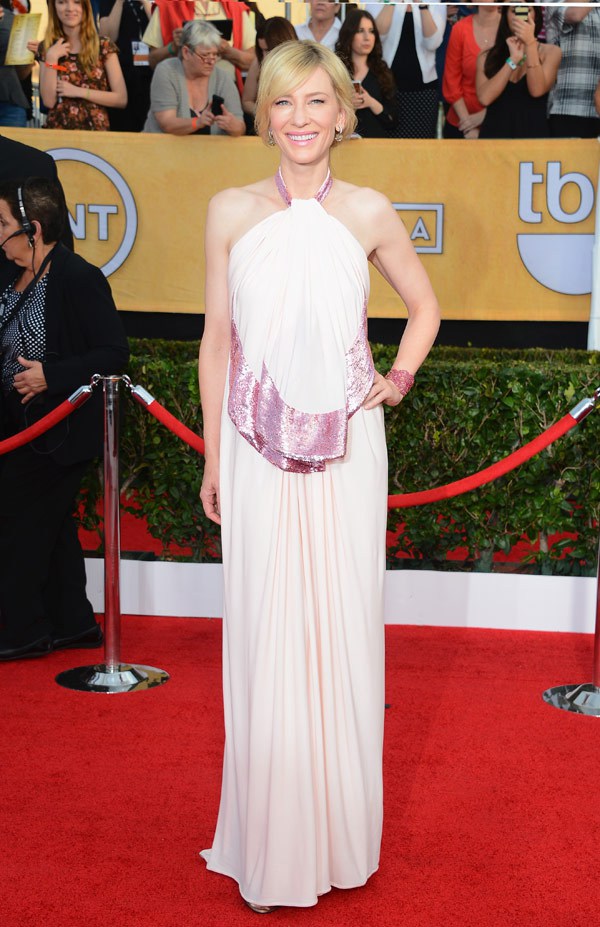 ---
Claire Danes was another one on worst dressed lists around town but I liked this column dress by Vionnet. Maybe it's because Claire looks healthy for the first time in a long while and that has colored my vision, but I thought she looked good. A little tired, but good.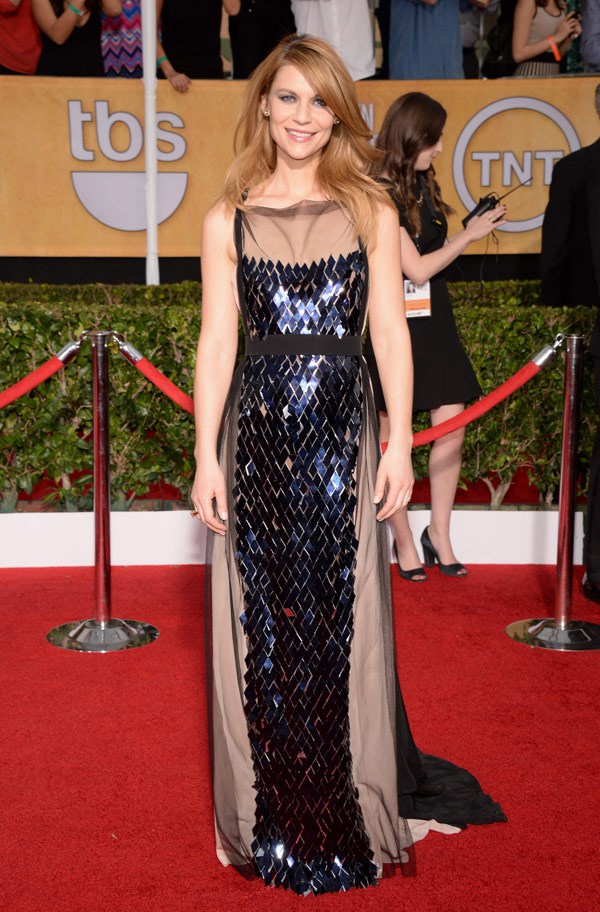 ---
Jennifer Garner is lovely in this deep blue column with a subtle sheen by Max Mara.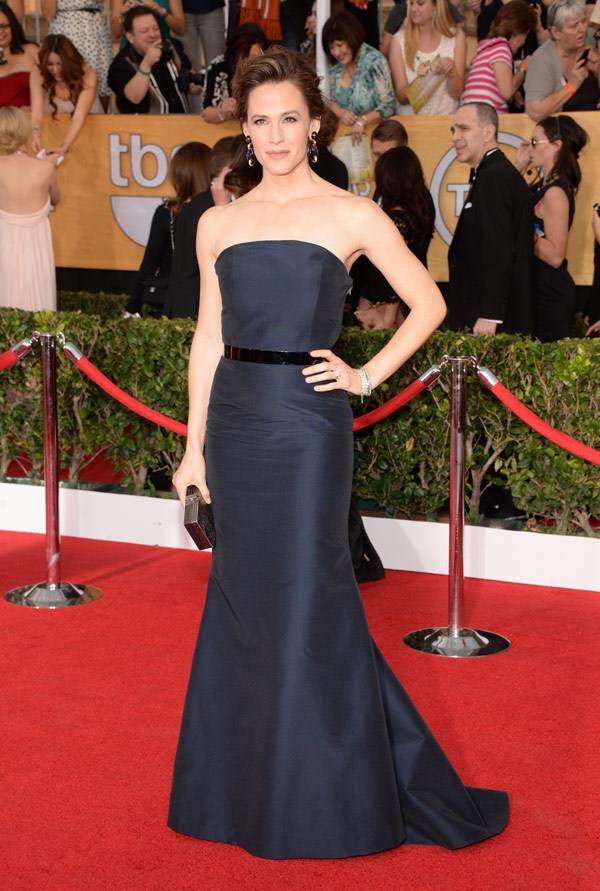 ---
Hannah Simon in Marchesa. Initially, I was a little iffy about the ruffled neckline but the overall look is gorgeous. It's airy and so very feminine without being princess-y. Wonderful balance.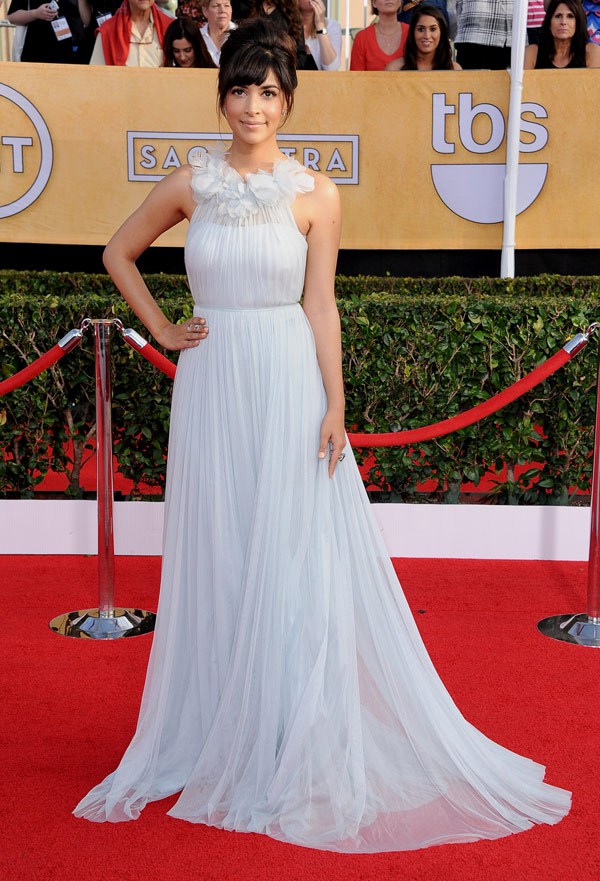 ---
Sarah Hyland looked so sweet in Pamela Roland with a high-low hemline that showed off her exquisite Jimmy Choo pumps perfectly.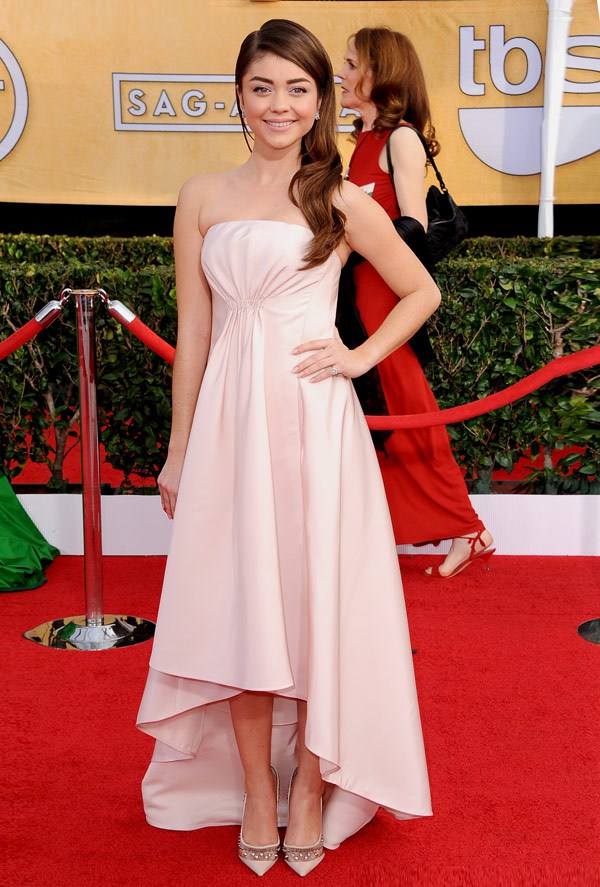 ---
I'm giving an honorable mention to Jennifer Lawrence in Dior. I think the dress is stunning and fun and the fit was impeccable.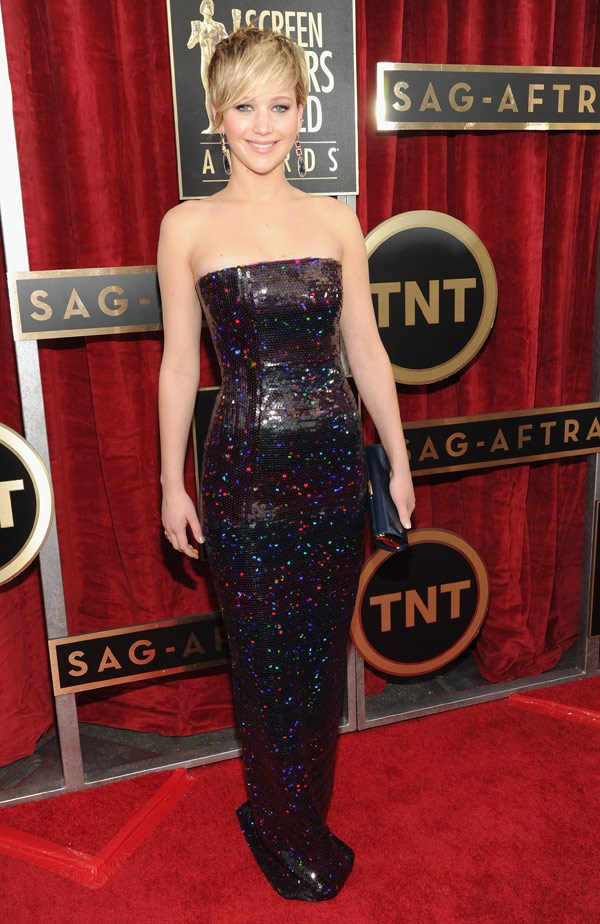 Screen Actors Guild Awards: looks that won me over
On my list of looks that I wanted to not like but ended up loving are Kerry Washington and Julie Bowen. I saw pics of Julie's dress before I saw her on the carpet and wasn't blown away but when I saw the GlamCam pan, the movement, color and the pattern blocking, I was immediately smitten. It's such a fun dress that has a lot of energy. Just like Julie!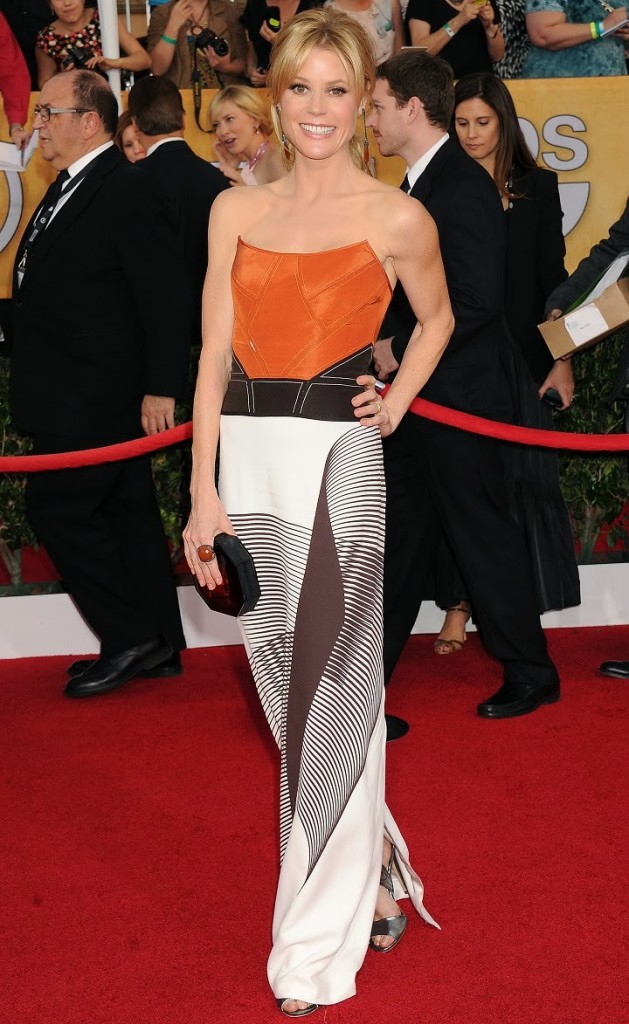 ---
Same thing for
Kerry Washington
who wore custom
Prada
. The photos don't do her look justice
at all
. The color is so pretty and alive and I'll just say this, one doesn't get named Best Dressed Woman in the World without taking a few risks. I ultimately loved the spirit of the outfit and her stated intention of having 'nothing to hide.' Having a baby on board is certainly nothing to hide and this was a major step forward for styling women who are pregnant
or
for those who are simply carrying a little something extra around the middle. It's vulnerable and feminine and strong. Bravo Kerry!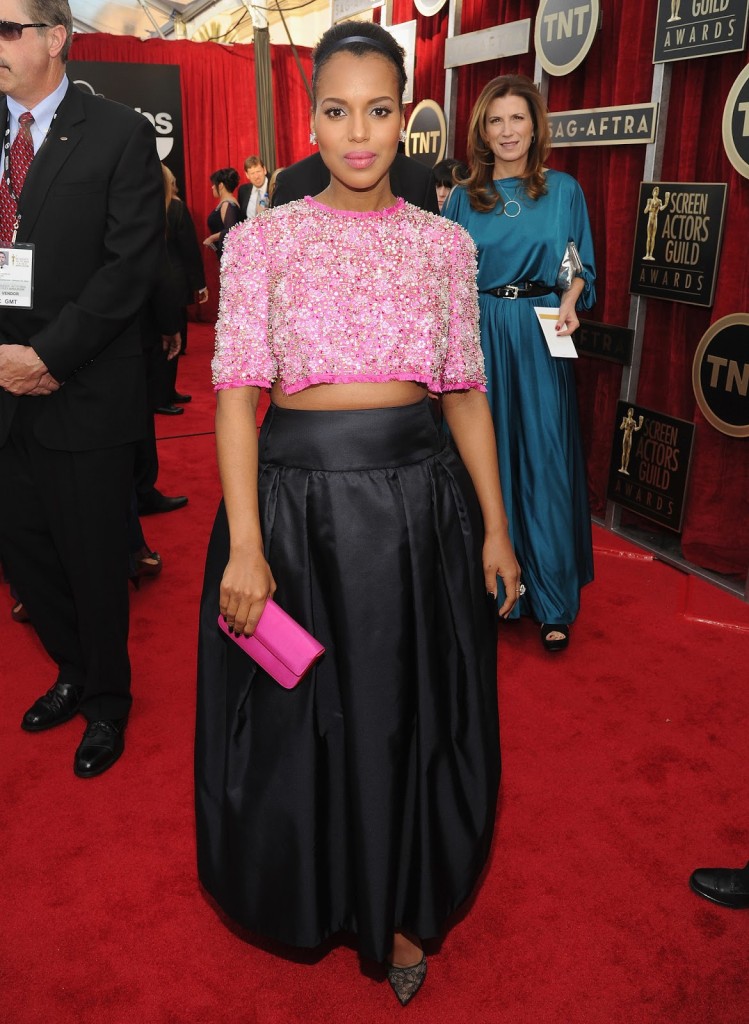 ---
---
Best Beauty at the SAG Awards 2014
Not to be outdone in any category, Kerry wins for my favorite beauty look of the evening. She is positively glowing and her updo with the grosgain ribbon, I die. Also, check the detail of her Prada top. Makes me like it a little more.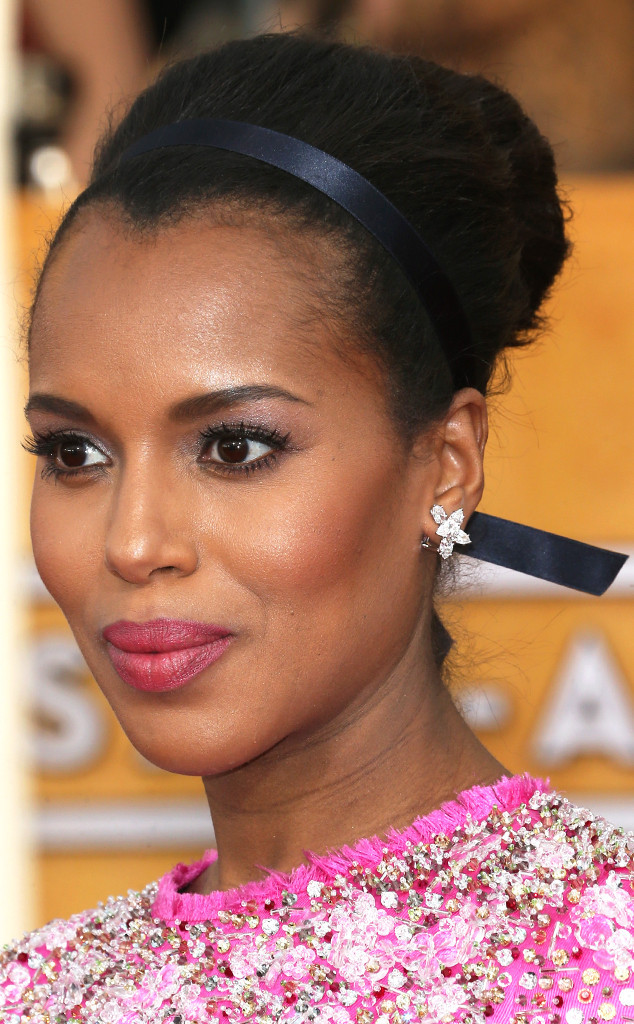 My second favorite beauty look of the night was the radiant Hannah Simon. It's tough to pull off nude makeup without looking washed out and she nails it. I also love her wispy updo and rakish bangs. Love, love, love!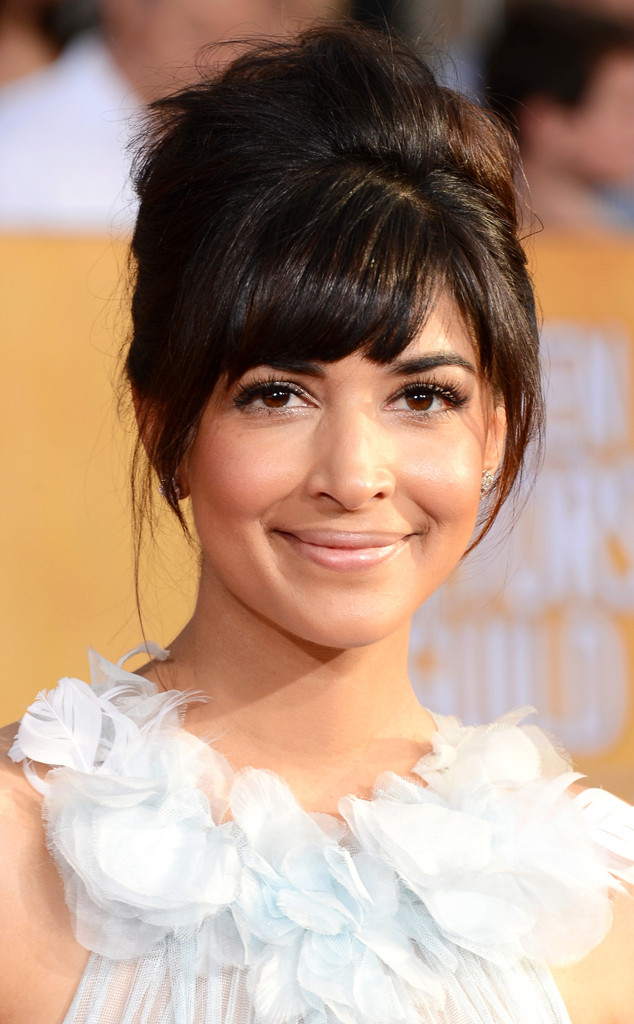 ---
That wraps my Fun with Fashion moment on the SAG Awards 2014 Red Carpet. Who wore your favorite looks of the evening? Don't be shy, leave a comment below!
Thanks for reading!
YOU SHOULD ALSO CHECK OUT