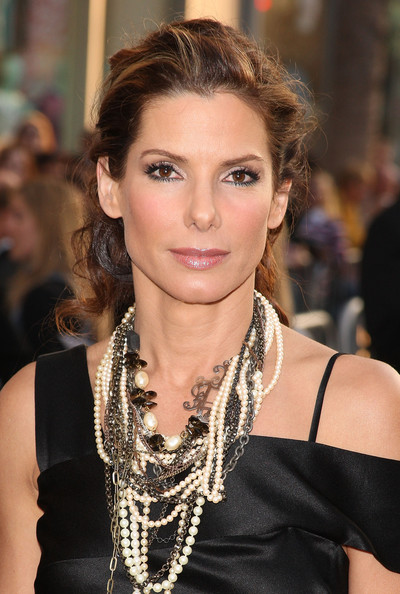 Sandra Bullock. She is one of the few actresses whose movies I can watch over and over again and never tire. Every time The Proposal comes on TV I watch it. Even though it's usually on FX Network and they butcher the film something terrible, I still sit through it and wait for the scene when she dances in the woods with Betty White. And the scene when they're on the boat and she finally realizes the magnitude of what she's asked Andrew to do. I should buy a copy and stop torturing myself.
I also love Practical Magic in which I think she may have channeled an actual witch's power because that's the only way I'd sit through multiple viewings of a Nicole Kidman film. But still I watch. She's magnetic.
I was hooked the moment she zoomed into our lives on that runaway bus with Keanu Reeves. We all were.
Sandra Bullock is also quite captivating on the red carpet. She loves bright colors and an off-the-shoulder moment. She goes from easy-going girl next door to sexy and strong with effortless ease. This collection takes a look at some of my favorite red carpet looks. Here's to style inspiration!
What's your favorite Sandra Bullock style moment? And what's your favorite Sandra Bullock film? Drop a comment and let me know!
Stay saucy!
Shop Sandra Bullock Style
---
RELATED POSTS