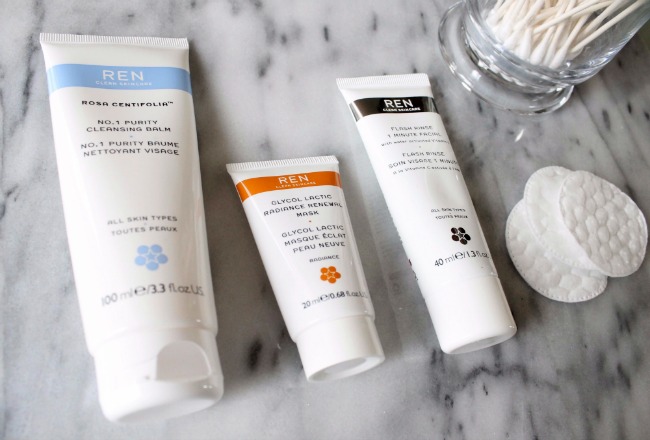 Good skincare is always in season and just in time for Spring, I've been testing the REN Skincare Pure Glow Trio, a three-step process for cleansing, exfoliating and revitalizing. Three steps you say? Yes and that's a good thing. I know that with our super busy schedules, we all look for that one mystical, magical beauty product that will do it all but that's not always the best approach. No one product can do all the things required for your skin and frankly, no one over the age of 10 can get away with a single-step skincare routine.
The REN Skincare Pure Glow Trio promises performance, purity and pleasure. Their products are made with high-tech active ingredients, are 100% plant and mineral based and they believe that texture and fragrance are an essential part of your skincare experience. Read on to see how well the Pure Glow Trio worked.
REN Skincare Pure Glow Trio – What's in the Box
The idea of the Pure Glow Trio is to cleanse, exfoliate and revitalize in three separate steps.
Rosa Centifolia No. 1 Purity Cleansing Balm – A rose infused balm that gently melts away dirt and makeup.
Glycol Lactic Radiance Renewal Mask – An exfoliating mask formulated to renew the complexion, improve skin tone and reduce the appearance of fine lines and wrinkles.
Flash Rinse 1-Minute Facial – Formulated with a potent water-activated Vitamin C, it revitalized and rejuvenates the skin.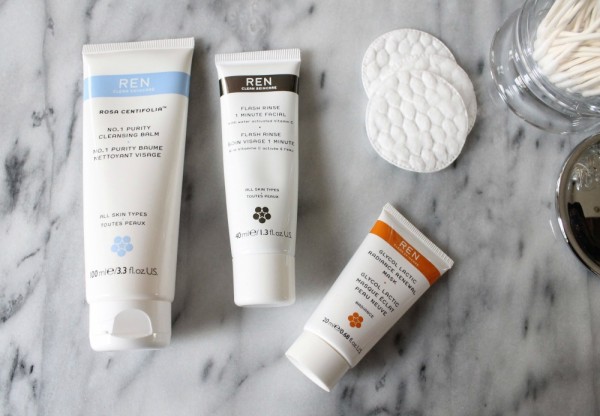 This is perhaps the first cleansing balm I've ever used. It is surprisingly thick and buttery and really melts into your skin to dissolve dirt and makeup. Its claim to fame is that it can even tackle waterproof mascara which, as we know, can often require a whole suite of products to remove completely.
It went on smooth and felt wonderful as I massaged it into my face and neck. I was concerned about it rinsing away completely but the rinse was fine and the product didn't leave any residue on my skin. It worked quite well, taking off my waterproof eyeliner and mascara with minimal wear and tear.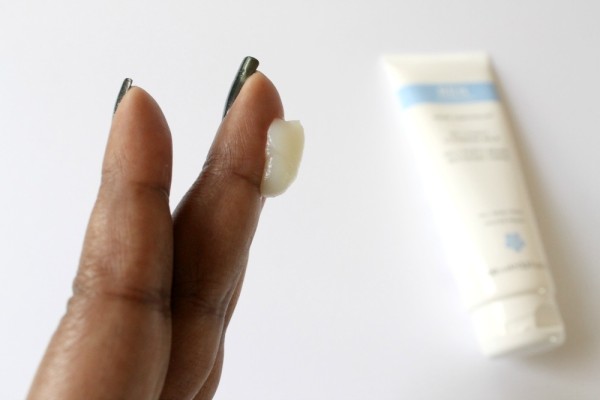 The mask should be applied generously and requires a 10-minute wait so I'd recommend having a plan to multitask for that time. Ten minutes can seem like an eternity so I usually jump in the shower and tend to other daily tasks while I wait. After the 10 minutes are up, I used the included muslin cloth to wipe the mask off. This really helped with the exfoliation. Word to the wise, there may be some slight tingling with this product and it's not recommended for sensitive skin. And if you're one to shave your face, skip this one and only use it on your non-shave days.
I found the exfoliator to work quite well with the muslin cloth and it didn't leave my face feeling tight at all. Always a good sign.
I'm a fan of any skincare product that contains Vitamin C because they work so well to brighten my complexion and this one was no exception. This should only be used every three or four days and please remember to apply your sunscreen after use.
My Overall Impressions and Results
I'm really happy with the results I got with the Pure Glow Trio. My skin looked and felt great after each use with no sensitivity or tightness. The cleansing balm is my favorite of the three because it's really rich and effectively removes all traces of dirt and makeup. Using the set made me feel like I'd completed a serious skincare routine which is something I always look for with a new product. Good stuff!
UPDATE: Unfortunately, the Glow Trio is no longer available as a set but you can still purchase the individual products. Here are the links for the Rosa Centifolio Cleansing Balm, the Glycol Lactic Radiance Renewal Mask, and the Vitamin C Flash Rinse Facial.
Thanks for reading and please remember to share the good news with your friends!
---
*The Pure Glow Trio was provided to me for testing and review. Thank you for continuing to support TPP collaborations!
MORE MUST-READ SKINCARE POSTS